09 Oct 2021
$140 Million Moxy Hotel Construction Begins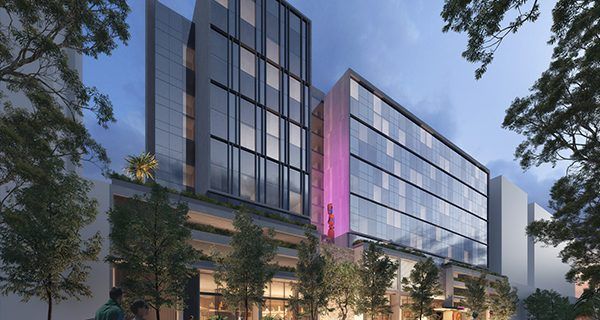 The $140 million Moxy Hotel at Sydney Airport, the first of its kind in Australia, has commenced construction by Roberts Co.
The MAED. COLLECTIVE and Group GSA designed hotel was chosen by a joint venture between RF Corval and KS Hotels & Resorts.
The 301 guest rooms in the building will be positioned just near to Sydney Airport. The 2997 square metre property is located on a key street that leads to both the domestic and international terminals in Sydney.
Chris Boys, RF Corval's Director of Hotels, expressed his delight at the start of construction, noting that it was a watershed moment for the company.
"We are thrilled to see works start and look forward to working alongside Roberts Co to bring the hotel to life," Boys said.
"We know Roberts Co are well placed to tackle the complexity of the project.
"This project is a clear reflection of our confidence in the accommodation and travel sector. Along with our partners, we share a positive outlook for demand in the longer term, with a forecast recovery of travel and tourism following the opening of borders."
Alison Mirams, CEO of Roberts Co, stated that the project will allow the company to continue to develop in its area.
"36 percent of this project team are females, including 50 percent of the team's engineers and they are led by our female Project Manager," Mirams said.
"All of our project team will work across the five-day work week we have become known for. This will be our third project delivered under this model and our first in the private sector, which we have found leads to improved staff happiness. Like in other industries, the team greatly benefit from spending their weekends with friends and family. Their improved mental and physical wellbeing ultimately results in a myriad of benefits for us a company, as well as our clients.
"The Moxy is going to be a fun project to work on and even despite the 50 percent workforce capacity restrictions we are currently working under due to COVID-19, close to 2000 new jobs will be created during the construction phase."
The Moxy Sydney Airport is expected to open in early 2023