30 Jun 2022
$141m Sydney Green Square Tower Receives Green Light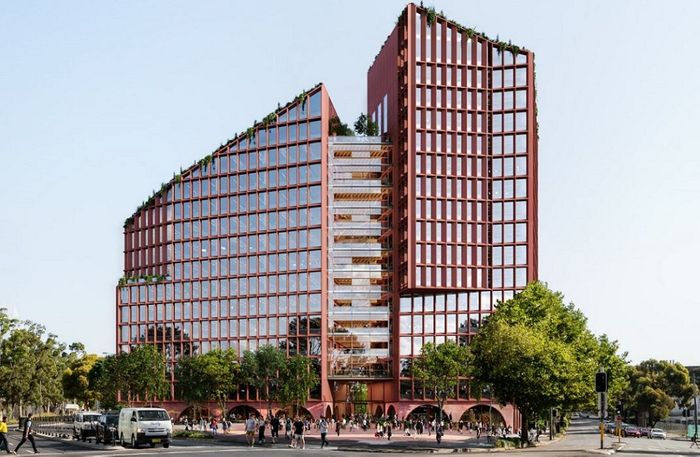 Toga has received approval for Fulcrum, a $141 million A-grade commercial tower planned for a location over Sydney's Green Square train station.
The 3275 sq m site has been owned by the integrated property developer since 1986, and Toga managing director Allan Vidor said they were eager to plan the neighborhood's upcoming phase.
It will be the first location to be developed on the Green Square side of Botany Road. According to Vidor, it improves the public realm and connects the station to a larger area designated for town centre redevelopment.
"Fulcrum will be one of the first purpose-built commercial buildings for the new post-Covid era and is specifically designed to foster strong organisational culture and lead to happier, more engaged people," he said.
"The distinct terracotta colour, form and materiality pays homage to the area's significant past as an industrial heartland and embodies the exciting fast-growing creative and social community that is emerging in the neighbourhood today.
"The development provides the chance to become part of one of Sydney's most significant revitalised and transforming urban neighbourhoods, set to be home to over 30,000 new residents by 2030."
The 16-story A-grade skyscraper will have wide flexible floorplates of up to 2139 square metres to cater to a variety of tenants. It will have 25,000 square metres of nett leasable space.
Although there are currently no confirmed anchor tenants, Toga Executive General Manager of Development Paul Shaw noted that the wide adjustable floorplates would appeal to tenants in the creative, tech, communications, and professional consultant services sectors.
The project is a part of the Green Square Urban Renewal Area, which is transforming a 278 hectare mixed-use neighbourhood out of one of Sydney's oldest industrial areas.
The precinct's town centre, located 4 kilometres south of the CBD, has 16 locations that can house 9300 workers and 5850 residents.
The "next generation office" by Bates Smart has two wings that attach to a naturally ventilated, centrally located timber core of the structure, enabling a sustainable collaboration and connecting area.
With landscaped outdoor roof terraces and biophilic design, Fulcrum is aiming for a 5 Star Green Star rating and a 5.5 Star NABERS rating, according to Bates Smart director Philip Vivian.
"Fulcrum creates a civic landmark entry to Green Square, weaving together a rich public domain with retail, transport and a healthy and sustainable workplace," Vivian added.
"The development provides a unique opportunity to contribute to the rejuvenation of the Green Square precinct, while setting the precedent for a low carbon workplace of the future."
The project is expected to be completed in 2026.