30 Aug 2023
214 EV Chargers to Be Implemented Across VIC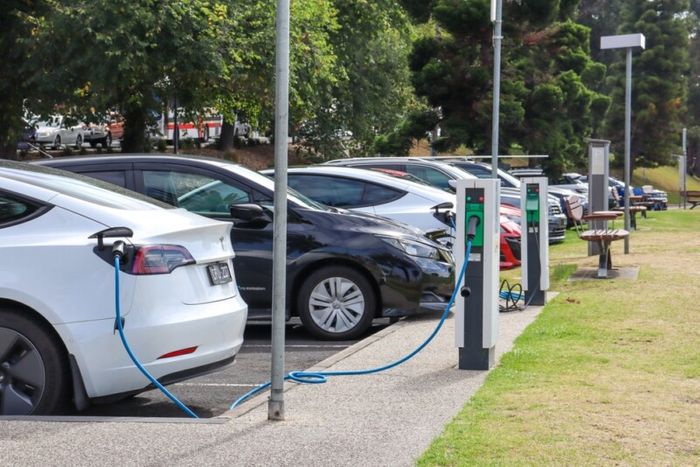 The Victorian Government has announced 214 new electric vehicle (EV) fixed and transportable chargers set to be installed across the state to help drive the public towards zero emission vehicles.
Victorian Minister for Energy and Resources, Lily D'Ambrosio, announced that the government is set to use $2.2 million across four projects to develop new charging technology as part of the Zero Emissions Vehicle Emerging Technologies (ZEVET) program.
"The innovative projects will help us meet our 2030 target of half of all new light vehicle sales being zero emissions, and also help reduce emissions to 2045 emissions reduction targets," Ms D'Ambrosio said.
Once completed, this will add to the 116 charging sites already being installed as part of the governments destination charging program – helping Victoria reach its target of 50 per cent of all new light vehicles sales to be zero emissions by 2030 and net zero by 2045.
The ZEVET program provides grant funding to support innovative technologies in electric vehicle (EV) charging, including pilots, trials, demonstrations, and implementation-ready projects.
ZEVET is part of the Government's $19.21 million Acceleration of Zero Emissions Vehicle Adoption (AZEVA) program, which is accelerating the roll-out of public and fleet charging infrastructure across Victoria.
JET Charge, the country's largest EV charging infrastructure company, has secured funding for two projects: the JET Charge Battery Backed EV Charging project and the EV Charging Central – Apartments and Buildings project.
The JET Charge Battery Backed EV Charging project is expected to deliver up to four customised transportable stand-alone solar, battery and EV chargers. The first transportable charger will be deployed to RACV Goldfields Resort in Ballarat, with the others tol be trialled across Victoria at locations with seasonal demand.
JET Charge's EV Charging Central – Apartments and Buildings project comprises a centralised design of 10 EV charging outlets in an apartment carpark and commercial shared car space for fleets in metropolitan Melbourne.
As part of incoming requirements under the National Construction Code 2022 energy efficiency standards there must be space for switchboards and EV chargers in new builds for 100 per cent of car spaces in apartment buildings.
Intellihub Assets Pty Ltd will deliver a resourceful Street Light Pole Mounted EV Charger, installing 100 EV chargers mounted on street light poles across three inner city local government areas.
Myenergi APAC Pty Ltd will deliver 100 smart connected EV Chargers in homes and businesses across Victoria that can detect and use surplus electricity generated via rooftop solar to charge an electric vehicle.
Source: Infrastructure Magazine
---
Attend Heat, Energy, Air & Water Expo 2024, leading HVAC-R Exhibition in Australia. Gain access to 10 conference stages and networking sessions, check out 400+ exhibitors, learn from 500+ high-profile speakers and connect with 35,000+ built environment professionals.