A $27m Bid Have Been Made for Shop-Top Housing at Seashore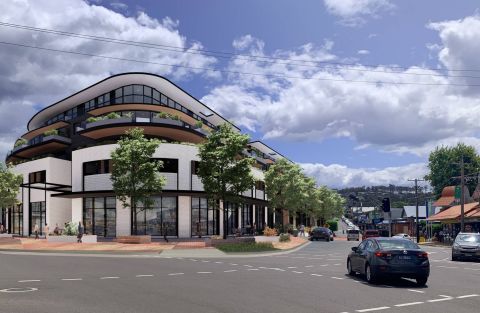 Plans for a $27 million shop-top-housing complex in a small coastal location south of Sydney might usher the community into a new era.
According to planning records, current two-story commercial buildings at 29-33 Market Street in Merimbula will be demolished to make room for three five-story structures, resulting in a mixed-use development that would "re-establish Market Street as the retail and commercial centre."
Spungrow Development's Robert Green has held a piece of the 4000sq m land for almost 40 years and first proposed a retail development in 2005.
However, the projected development has run into a number of roadblocks. A development application that proposes construction heights two floors higher than permitted by planning restrictions has been referred to the NSW Planning Minister for a gateway determination and will then be put on exhibition.
According to reports, the Bega Valley Shire Council has encouraged site-specific planning applications.
The project by Squillace Architects is for ground-floor retail, second-floor commercial space, and three levels of apartments above that, for a total of 52 units across the three buildings.
It also contains 114 parking spots and a laneway that will serve to enliven the property by allowing pedestrian traffic to pass through to the lake.
Residents of Merimbula had previously rejected prior incarnations of the site's development, stating that it would detract from the little town's beauty.
The property is a "unique chance to establish a gateway to the Merimbula CBD and reflect the future planned character of the retail strip," according to planning papers.
The design study said that "the site's location on the western side of Market Street allows the site to transition from the foreshore, substantiating an increase in height and proclaiming the site as a landmark structure."
Setbacks are provided in the constructed form to assist break up the massing, and pedestrianized laneways would be included at ground level to help drive foot activity.
Shop-top housing has been increasingly common in recent years, notably in inner-city suburbs. However, it is less well-established in rural areas.
When compared to suburb norms in the cities, convenience-based apartment supply has a 16 percent premium on pricing.
It provides an alternative to more traditional dwelling styles, and some regional governments have begun to promote this sort of building in order to meet the needs of rapidly growing populations.
The Lismore City Council in northern NSW has pushed for these buildings in order to contribute to the liveliness of the CBD and to refurbish unused floor space above businesses and offices.