12 Dec 2022
$500m Powerhouse Ultimo Plans Revealed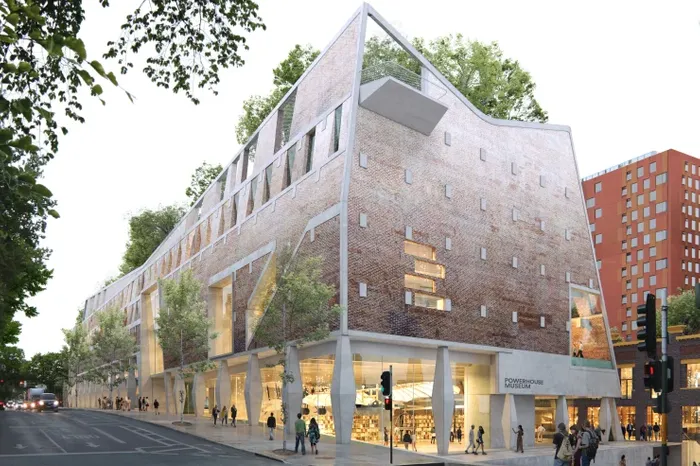 As part of the winning design for the $500 million renovation, the Powerhouse Museum's main entrance will be facing Darling Harbour and Chinatown.
The refurbishment includes a brand-new public plaza, rooftop gardens, and a multi-story annex running the length of Harris Street across its now-bare forecourt.
The museum's 1988-built arched atrium extension to the heritage-listed buildings of the Ultimo Power Station and the old post office, known as the Wran Building, is to be demolished.
Currently, it serves as both the building's public entry and temporary exhibition space.
It will be replaced by a four-story structure that will have access to a library and archives from the street, as well as upstairs accommodation for 60 school children with options to sleep under the stars at the rooftop garden.
At the building's rear will be an expanded public park next to the old Ultimo post office.
A huge public square that has been planted with native species and an event area for museum programs will be located near the museum's new entrance, which will now be facing the Goods Line.
Architectus, Durbach Block Jaggers Architects, Tyrrell Studio, Youssofzay + Hart, Finding Infinity, and Arup developed the proposal after being "unanimously" selected from a shortlist of five architectural firms to redesign the museum's city home.
Akira Isogawa, a well-known fashion designer whose designs are featured in the Powerhouse collection, and the Indigenous design start-up Yerrabingin will collaborate with them.
Their design was inspired by the cultural topography of the region, and the new multi-story addition leans away from the heritage-listed structures to resemble an escarpment.
Jury chair Wendy Lewin said the winning proposal called for a "family of strong masonry buildings" of a scale and materiality that respected heritage and responded sensitively to the Ultimo surrounds.
"The winning scheme is underpinned by a compelling and coherent vision for the renewal of the Powerhouse Ultimo site and the broader precinct," she said.
"The design approach centres on making subtle moves appropriate to the site – at times via gentle intervention and repair, at others through ambitious moves that enable the site to be 'unlocked' to provide a distinctive and highly functional museum experience."
---
Attend Sydney Build Expo, the largest construction, architecture and infrastructure show in Australia. Gain access to 9 conference stages and networking sessions, check out 400+ exhibitors, learn from 450+ high-profile speakers and connect with 20,000+ built environment professionals.