28 Feb 2022
A $250M Upgrade started on Marvel's Stadium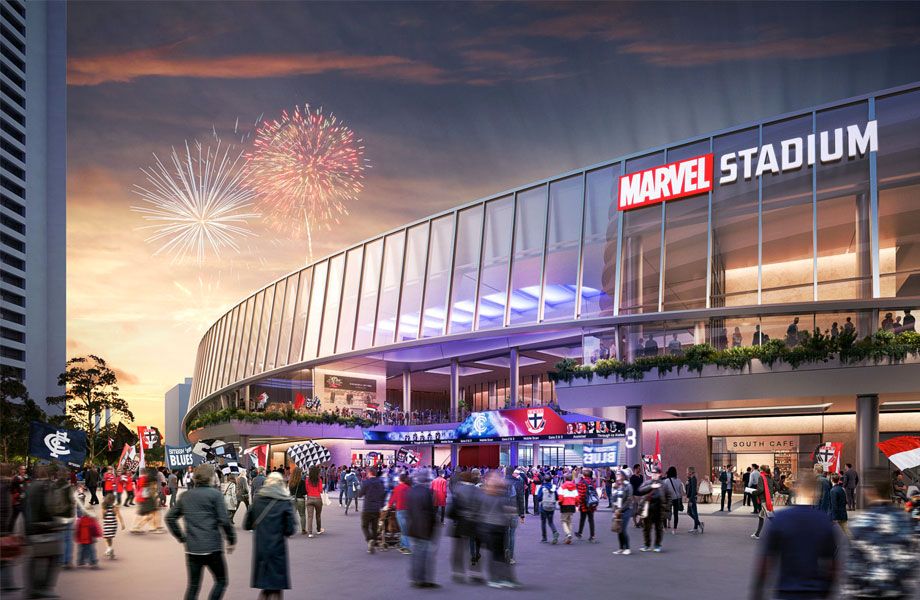 Melbourne's Marvel Stadium in Docklands has began construction on a $225 million addition, the first since it opened in March 2000.
The current 56,000-seater stadium's concourse will be refurbished to create a "365-day-a-year sport and entertainment destination" near Bourke Street.
An extended eastern stadium entrance will also be built, with a more flexible concourse area, streamlined ticketing, retail, and food and beverage options.
The new town square, which will have cafés, bars, and restaurants and will have skylights and windows to provide the appearance of a "indoor-outdoor" place, will welcome fans more freely from the Southern Cross Station footbridge to the seaside.
The stadium will be enhanced with thematic color-controlled dynamic lighting, outdoor seating zones, and landscaping, as well as modifications to the exterior and two state-of-the-art scoreboards for each end.
The renovation of locker rooms will help professional women's sport "balance the playing field." Additionally, there will be more public bicycle parking.
As a consequence of the renovation, there will be 200 fewer parking spaces available, and signage, navigation, and accessibility will be improved to make it simpler for spectators to navigate the stadium.
The state government will pay the building work, which will be done by John Holland, as part of the state-AFL Funding and Commitment Deed.
The stadium will stay open throughout development and will be able to hold scheduled games and big events. Construction is expected to be completed during the 2023 season.
The enhancements, according to Minister for Tourism, Sport and Major Events Martin Pakula, would create a lively centre for the Docklands community and attract more people to Melbourne's waterfront.
"This upgrade provides spectators with a contemporary stadium experience and ensures that it remains a world-class site capable of hosting the major sports and events that Victorians enjoy," Pakula said.
The stadium, designed by Populous in collaboration with Daryl Jackson, began construction in late 1997 and was finished in 2000 at a total cost of $460 million.
On the AFL's balance sheet today, the arena is worth $250 million, with $400 million in assets and $200 million in net assets after debt.
Aside from the stadium, plans for a large residential complex are also moving along quickly.
After receiving unanimous endorsement from the Future Melbourne Committee in January, build-to-rent developer Home is now prepared to break ground on two build-to-rent skyscrapers at 685-691 La Trobe Street.

The $400 million project features 676 apartments spread across 76,000 square meters above a platform with 3300 square meters of shops, event space, and services.