10 Oct 2022
Approval Secured for $500m Sydney CBD Hotel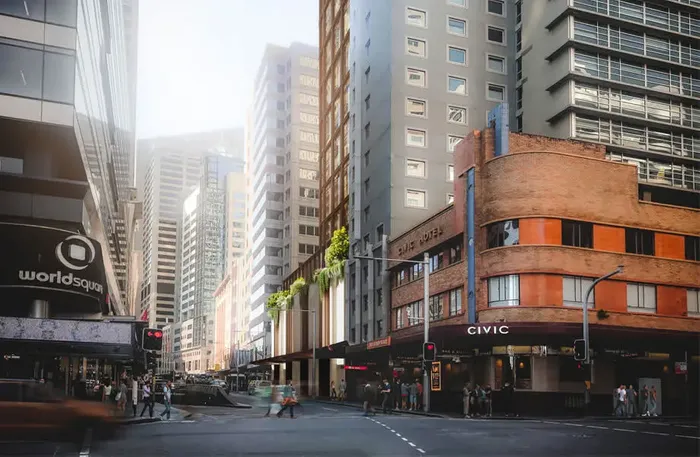 After receiving planning approval from the City of Sydney, Melbourne-based ICD Property and real estate investment company Belingbak will start construction on a $500 million hotel development in the southern end of Sydney's CBD by 2024.
The 58-story development by ICD and Belingbak will rise on a combined land measuring 1300 square metres between 372 and 382 Pitt Street.
After negotiating negotiations to buy eight nearby Pitt Street properties from their individual owners, Belingbak established the development site.
Its approved project, 372 Pitt, will be located in Sydney's developing technology district directly across from World Square. It will have a 300-key hotel, 30 luxury apartments, ground-floor shopping, and eating options.
"The hotel will act as a catalyst for the wider precinct, delivering quality architecture, urban activation, increased job opportunities, accommodation, and a successful streetscape retail offering," ICD Property chief executive Matt Khoo said.
The final design of the building, which will also contain a ground floor retail offering of food and beverage outlets, entertainment, and public art, will be chosen via a competition between five top architecture firms, according to ICD Property and Belingbak.
The site's detailed development application will be submitted after this procedure in the early 2023.
The concept design idea was carried out by the architecture firm Woods Bagot and town planner Urbis and submitted to council towards the end of last year.
"This is one of the most exciting stages of development in Sydney," Khoo said.
"When we're able to work with a variety of world-class architects, each with distinctly original philosophies and approaches to design, it is hugely rewarding.
"We will witness five vastly different potential outcomes for the site, endeavouring to find the perfect fit that balances our vision and the city's needs."
Six of the seven 112-year-old terraces, which are unique surviving examples of Edwardian Free Classical Federation-era architecture, will be "meaningfully retained" as part of the proposal that was approved.
The Pitt Street project is the second construction on Pitt Street by ICD Property. The developer has received approval for the renowned City Tattersalls Club in Sydney's renovation, which will cost $760 million and completely revamp the 127-year-old club at 194-204 Pitt Street.
The City Tatt buildings will be updated to contain additional shops, bars, and restaurants, a wellness centre, event spaces, and a co-working club. The approved plans call for the construction of a 142-meter tower that will house a 101-room hotel and 241 luxurious flats above the City Tatt buildings.
For the project, off-the-plan sales will start soon, and building will start soon after that.
For Belingbak, the approval of 372 Pitt represents a turning point for the growing real estate company with a platform that is active in NSW and WA.
Jack Montgomery, the founding director of Belingbak, claimed that the investment company had been given the chance to construct a mixed-use structure of the highest calibre.
"As Sydney evolves on the global stage, so too will this building," Montgomery said.
"It will provide a benchmark, a feeling of connection and a place loved by tourists and locals alike."