21 Jul 2023
Bates Smart Designs Mammoth Student Accommodation Precinct at UNSW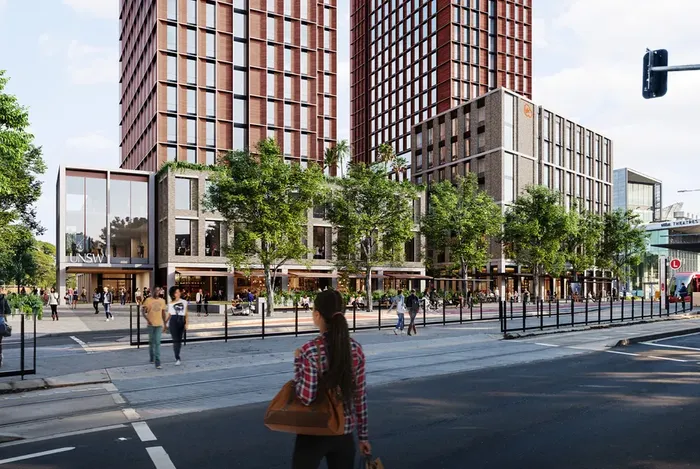 Bates Smart has unveiled designs for a five-building student accommodation precinct across the road from the University of New South Wales' Kensington campus, Sydney.
Developed by student accommodation provider Iglu, the "Iglu at UNSW" project on Anzac Parade will house 1,066 beds. The tallest building will reach 23-storeys and house 542 beds, followed by a 19-storey building with 382 beds, a seven-storey building with 63 beds and two four-storey buildings with 39 and 40 beds each.
At ground level, Bates Smart is proposing a set of social and relaxation spaces, along with retail tenancies. These spaces include a civic lawn, a courtyard, an "eat street" and a sensory garden.
The buildings will sit on the western edge of the UNSW campus, a major entry gateway, and the design acknowledges this by creating strong physical and visual connections with the campus.
"This is an architecture that is not a heroic architectural gesture, but rather one that considers its place and its relationship with its context," a design statement from Bates Smart reads.
"The composition of buildings is intended to read as a collective, whilst allowing each building to have their own character and identity through a diverse built form and facade expression.
"Towers are set back behind lower, human scaled podium forms to reduce their visual and environmental impact.
"Centred on natural tones, the materiality has been selected to work in harmony with its context."
Arcadia is the landscape architect for the project, which is envisioned as a "village campus", with open spaces weaved through the precinct.
The developer Iglu secured a 99-year lease on the site from the university after winning a competitive tender process, the Australian Financial Review reports.
A development application for the project is on exhibit on Randwick City Council's website.
Source: ArchitectureAU
---
Attend Sydney Build Expo, the largest construction, architecture and infrastructure show in Australia. Gain access to 10 conference stages and networking sessions, check out 400+ exhibitors, learn from 500+ high-profile speakers and connect with 35,000+ built environment professionals.