26 Jun 2019
Blockchain Applications in the Construction Industry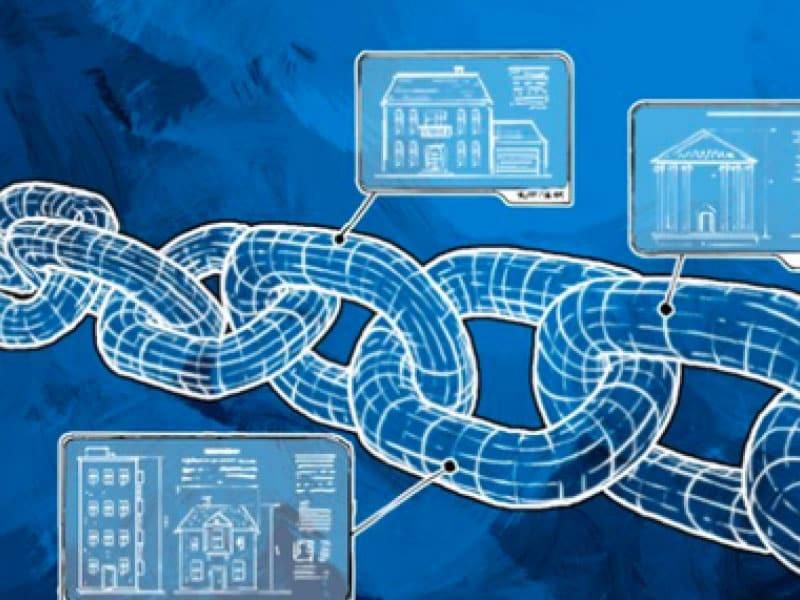 The construction industry has regularly been cited as one of the world's most fragmented sectors and has regularly been challenged to improve its efficiency, productivity, and to embrace the opportunities presented by emerging technologies. But how do built environment professionals and the construction industry recognise and capitalise upon the new school of technology such as blockchain and smart contracts?
What is blockchain?
Blockchain was first widely introduced as the underlying technology of Bitcoin. Put simply, a blockchain is a distributed ledger [a simple database] of information, such as transactions or agreements, that are stored across a network of computers as opposed to a centralised or decentralised system.
That information is stored chronologically, can be viewed by a community of users, but is decentralised and is not managed by a central authority such as a bank or a government. Once published, the information on the blockchain cannot be changed without hacking back through every block of information that has since been written. The computer power required to do this simply does not exist.
A conventional centralised system operates by having one central accounting book of all transactions between parties. A decentralised system operates with multiple records simultaneously existing in each of the contributing party's systems. Blockchain operates on a distributed network, where just one single source of information (immutable records of transactions, interactions) are maintained on the blockchain using the network and its protocols.
It has the potential to facilitate a paradigm shift in the industry towards effectiveness, accountability and transparency.
How would this apply in the construction industry?
Our industry is going through a revolution. This transformation is partly digital, in order to improve efficiency and workflows, and partly a business practice change. There is a long way to go before smart contracts are running construction projects but the trend of being reluctant to innovate is slowly shifting within the sector with the acknowledgement that organisations who do not embrace the digital age will be left behind.
Together with other technologies, such as BIM, blockchain can create a single source of truth for all aspects of a construction project. Such a model can become the trusted digital twin of an asset supporting not only its design and construction but its operation and maintenance along the whole lifecycle.
Blockchain technology has the potential to affect both changes and facilitate this innovation revolution. It can do so by shifting current payment and project management systems towards a more transparent and fair practice. Blockchain can deliver a more streamlined procurement process, reducing the high level of fragmentation and complexity of major projects.
Through smart contracts, business processes and administrative tasks can be automated to increase efficiency and can be aligned with the agreed contractual terms. Results may include significant cost savings and improved cost control on a project, streamlined supply chain management and increased margins. In an industry criticised for its poor payment record, these technologies have the potential to speed up payment times and increase transparency, both of which could help achieve a more collaborative environment and drive the productivity efficiencies that the industry seeks.
The provenance of the materials can reduce waste and drive the quality of products and service forward with high accountability. Such systems can enhance predictability with regards to procurement, but also in the case of the whole project delivery.
By reducing late payments, remediations and disputes, small and medium enterprises are no longer placed in continuous cash flow risk. Instead, the industry can become a more trusted entity.
Project data recorded by on-site sensors could be fed back to the smart contract and into the BIM system, to give an accurate and contemporaneous report on progress. This could then be used to value the works automatically against the pre-agreed prices, and to release payment at the appropriate time without a slow, manual, application and review process.
In the smart contract world, site staff and subcontractors could be given barcodes to access the site and record their attendance, while site deliveries could be chipped with GPRS trackers sending a message back to the smart contract to release payment on delivery to site.
A weather sensor on site could also be used to send data back to the smart contract to enable compensation events under a contract to be determined. The data could then be utilised to produce automated extension of time decisions.
Challenges to implementation:
The technology is new and there are several early challenges to tackle, but the potential of reshaping the industry for the better is there to be taken.
Construction is one of the largest industries in the world and the infrastructure it creates is the backbone of economic growth and productivity. It's our inherent responsibility to facilitate its digital transformation to make it ready for the challenges of the 21st century.
The future?
Smart contracts and blockchain have the ability to drive efficiencies in the construction industry which is often accused of being slow to innovate. The Farmer Review, 2016: Modernise or Die, suggested that the pace and nature of technological change and innovation in the wider world needs to be embraced by the construction industry. Whether smart contracts and blockchain will be widely adopted in the construction industry remains to be seen, but it is already clear that these technologies are no longer linked solely to the world of financial services and cryptocurrencies.
Further reading on Alan McNamara's Intelligent Construction Contract research can be found at:
Author: Alan McNamara CPEng
Senior Project Manager & PhD Student - Smart Contracts & Blockchain in Construction.
For more details check out icontract.ai or contact Alan directly here.