02 Sep 2021
BVN Designed Offices to be Built by Historic St Patrick's Church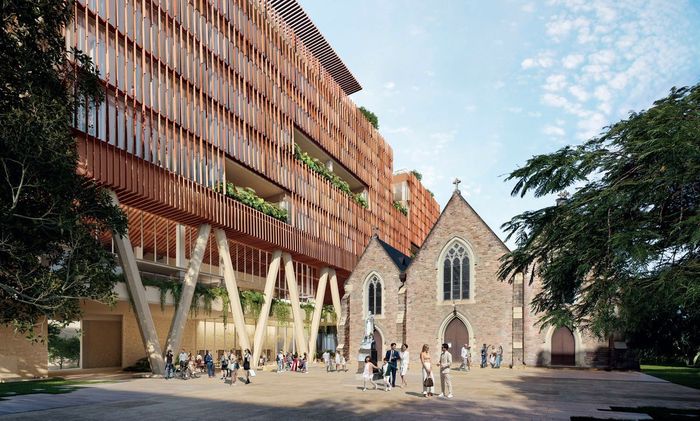 The Archdiocese of Brisbane has received planning consent from Brisbane City Council to construct an eight-story office building close to the historic St Patrick's Church on Morgan Street in Fortitude Valley.
The office building's design by BVN attempts to create a modern, adaptable, and sustainable structure with integrated community, workplace, and landscaped realms. A design statement stated, "The building has a distinctive appearance provided through its facade types that respond to orientation and draw reference from the existing church."
The design, which incorporates the largest rooftop garden in the area, an undercroft "Garden Room" with integrated landscape, and seating offering an urban common including century-old fig trees and the historic church, was enlisted by BVN architects.
With enhanced elevator capacities, a bespoke two-level end-of-trip facility, and a dedicated wellness room, the development will focus on wellness in the workplace, an essential topic in the post-COVID environment for office personnel.
"Each floor features living greenery and access to the outdoors overlooking the Church to the South-West and the Brisbane CBD beyond."
St Patrick's is a Gothic-style church designed by Andrea Giovanni Stombuco and built between 1880 and 1882. It was included to the Queensland Heritage Register in 1992 for its role in the consolidation of the Catholic church in Queensland during the latter quarter of the nineteenth century, as well as its architectural style.
The Archdiocese of Brisbane intends to utilise the project's earnings to fund continuing repair of St Patrick's and the Cathedral of St Stephen, the archdiocese's other historic building.
The project is set to begin construction in early 2022 and be completed in 2023.