17 May 2023
Consortium appointed to design Canberra Theatre Centre redevelopment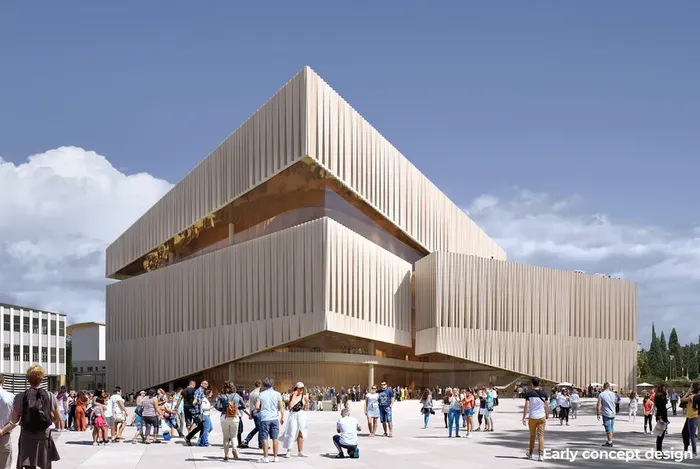 The ACT government has appointed Architectus, Henning Larsen and Arup to design the redevelopment of Canberra Theatre Centre.
The redevelopment and expansion will include the adaptive re-use of the existing Canberra Theatre as a multipurpose space for performances, concerts and events, as well as a new theatre building with a 2,000-seat facility, the refurbishment of the Playhouse theatre and the significant expansion of the courtyard studio. The project will be the centrepiece of a future civic and cultural district in Canberra.
In 2022, the ACT government sought submissions from Australian and international consortia for a design and technical partner for the project.
The winning consortium envisions a vibrant, multi-event, inclusive venue designed in consultation with First Nations peoples as per the ACT government's brief, which stressed that diversity and inclusion would be a priority in the tender submissions. Architects were asked to create designs that were supportive and inclusive of people with disabilities and those of the LGBTIQ+ community.
Preliminary designs submitted as part of the tender indicate a facade that reflects formal landmarks around Canberra.
"We will approach the design process through the lens of the audience and the performers," said Architectus principal and public sector leader Stephen Long. "We will continue to work from the inside out to create a National theatre with an international reputation. We will also work from the outside-in to create a theatre that is enmeshed in the city and landscape, one that holds its place in the context of Canberra's ensemble of National culture and arts buildings and brings vibrancy to the Canberra Civic and Cultural District. We seek to create a project that is an exemplar of elegance, function and sustainability."
Henning Larsen partner and design director Viggo Haremst added, "Our design ambition is for the centre to become a national landmark and an international destination, drawing artists and audiences from around the world to Canberra's new cultural heart.
"Together with Architectus and Arup, we've approached the design with great care considering the architecture and all other elements of design to create a vibrant and inclusive place that honours the history and beauty of the land. A cultural hub that celebrates the community, its diverse heritage and artistic expression, where people come together to share in the power of performance and storytelling."
Source: ArchitectureAU
---
Attend Sydney Build Expo, the largest construction, architecture and infrastructure show in Australia. Gain access to 9 conference stages and networking sessions, check out 400+ exhibitors, learn from 450+ high-profile speakers and connect with 20,000+ built environment professionals.