29 Apr 2021
Construction Starts on Future-Ready Office Precinct in Melbourne's CBD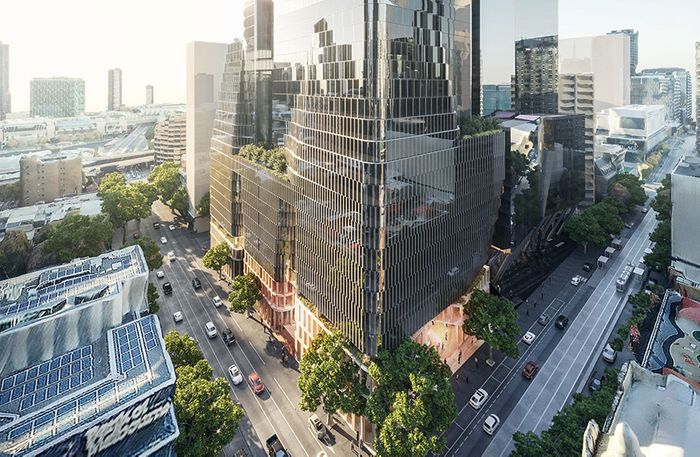 The $1.5 billion 555 Collins Street precinct of Charter Hall Group (Charter Hall or the Group) has begun construction.
This groundbreaking commercial precinct is the largest commercial development in Melbourne's CBD, set to begin construction in 2021, and will house Amazon's corporate offices in Melbourne in the future.
A ceremony was held on-site to commemorate the pouring of the foundations for the first stage of the precinct.
Among those in attendance were Victorian Treasurer the Hon Tim Pallas MP, Lord Mayor of Melbourne Sally Capp, Amazon Web Services Managing Director, Australia and New Zealand Adam Beavis, Charter Hall Managing Director and Group CEO David Harrison, Charter Hall Office CEO Carmel Hourigan, and General Manager Victoria Bill Alexandrakis of construction partner Lendlease.
The first stage of construction at 555 Collins Street would create approximately 1,500 jobs in Victoria.
The Hon Tim Pallas MP, Victorian Treasurer, said that city-shaping developments like 555 Collins Street are critical to the Melbourne CBD's future as a vibrant, economic center.
"This is significant for Melbourne and incredible news for jobs and our highly skilled workforce – this investment will contribute billions of dollars to the Victorian tech economy in the next 10 years and cement our position as the home of innovation in the nation," the Victorian Treasurer said.
Melbourne Lord Mayor Sally Capp said the $1.5 billion 555 Collins Street project demonstrated the city's economic resilience in the aftermath of the COVID-19 downturn.
"Our city's economic recovery is strengthening, and this project will be a catalyst for further investment in this area of the CBD," she said.
"1,500 construction jobs will be created as work gets underway and another crane in the sky is a sign of the confidence in our city's economic future."
Stage 1 of 555 Collins Street, owned by the Charter Hall Prime Office Fund (CPOF), will consist of a $750 million, 48,000 square metre Premium Grade office tower on the intersection of Collins and King Streets. The Stage 2 office tower will be 32,000 square meters in size.
The ground plane will seamlessly link into Melbourne's midtown, creating a luxury food and beverage center, while the landmark health and wellness offering will provide a place for tenant customers to reflect on their health, relax, and rejuvenate during their workday.
555 Collins Street is the result of a one-of-a-kind partnership between Charter Hall as owner and developer, Cox Architecture, and multinational design firm Gensler.
The architecture of the two buildings, which can house up to 7,500 CBD staff, actively responds to the current COVID-19 operating environment, with next-generation Smart Building technology that controls air quality and touchless facilities to promote improved health, hygiene, and wellness.
"We are delighted to welcome Amazon as the anchor tenant at 555 Collins Street, which demonstrates that major corporates are focused on delivering quality workplace environments for their employees," said Charter Hall Office CEO Carmel Hourigan.
Amazon Web Services Managing Director for Australia and New Zealand, Adam Beavis, also commented: "We're excited to be part of the reinvigoration of Melbourne CBD, by strengthening our local presence in the Victorian economy. Melbourne has a rich community of innovators, and we are looking forward to bringing Amazon's growing local workforce to 555 Collins Street so we can continue to invent and innovate on behalf of customers across our Amazon and AWS businesses in Australia. 555 Collins comes with a 6 Star Green rating and is constructed under a carbon-neutral framework, which will contribute to helping us reach our goal of net-zero carbon emissions by 2040."
Stage 1 of 555 Collins Street is expected to be completed in early 2023.
Website: Build Australia