18 Nov 2021
Designs for Two West End Green Bridge Unveiled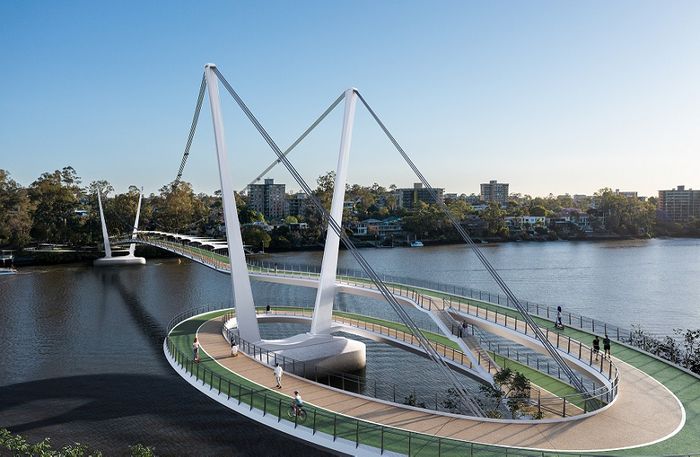 Brisbane City Council has unveiled concept ideas for the next two "green" river-spanning pedestrian bridges, as part of its ongoing river-spanning pedestrian bridge project.
The Toowong-to-West-End and St-Lucia-to-West-End bridges will accommodate bicycles, e-mobility devices such as scooters, and pedestrian traffic.
If Consolidated Properties Group's recently registered designs are approved, the Toowong Bridge would connect Orleigh Park near Forbes Street to Consolidated Properties Group's planned construction at 600 Coronation Drive.
A bridge will connect Guyatt Park at the University of Queensland with Orleigh Park near Morry Street farther up the river.
Meanwhile, work on the Kangaroo Point green bridge is scheduled to begin in the coming months, with Besix Watpac being given the contract to design and build the structure in September.
The Breakfast Creek bridge will also begin construction this year, with procurement underway and plans published in August.
The latest drawings, according to Lord Mayor Adrian Schrinner, provided a first look at prospective bridge shapes and structures, landing places and features, as well as viewing areas and landscaping.
"At Toowong, a new landscaped riverfront park and landing plaza will be created, with viewing platforms and seating providing space to rest and enjoy the view of the Brisbane River," Schrinner said.
"There will be a huge focus on maximising parkland around the Guyatt Park bridge landing in St Lucia, which will also deliver new shade, seating and viewing areas.
"At Orleigh Park in West End, the landings for both bridges will preserve existing heritage features and trees, where possible, to incorporate new and upgraded facilities such as seating, lighting and signage."
Chair of the civic cabinet for transportation The preliminary business cases for each bridge, according to Ryan Murphy, revealed that the projects were vital investments for growth.
"The population in South Brisbane and West End is expected to grow by 120 per cent between now and 2041, and employment in South Brisbane is expected to grow by 70 per cent in the same period," Murphy said.
"Together, the new green bridges will create a vital green transport network between the growing communities in West End, Toowong and St Lucia as well as the University of Queensland.
"Currently it can take up to 20 to 30 minutes to drive between St Lucia, Toowong and the West End peninsula—the green bridges will provide a direct walking link between these suburbs and will cut travel times by more than two thirds for those riding bikes and e-mobility devices."
Work on the Toowong-to-West-End bridge might start as early as 2024, pending funds and clearances, with each bridge taking about two years to build.
Brisbane property prices have risen 6.1 percent in the last quarter, with values likely to rise even more in the run-up to the 2032 Olympics.