25 May 2023
Designs Unveiled for New South Wales's Largest Mental Health Hospital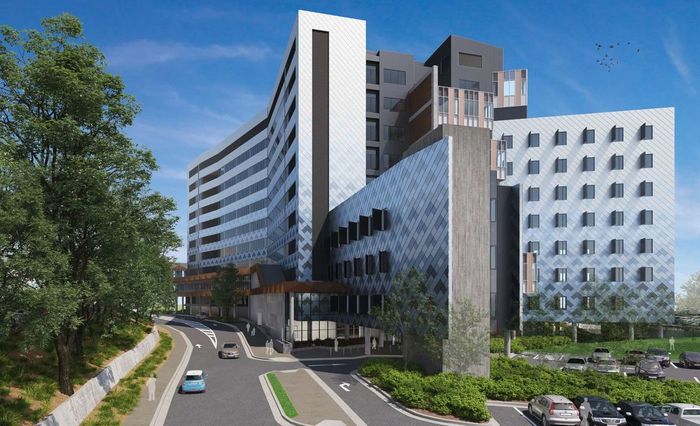 Designs for a Western Sydney mental health hospital that will become New South Wales's largest have been placed on public exhibition.
The $460 million Westmead Integrated Mental Health Complex, announced by the state government in May 2022, will replace the existing mental health facilities at Cumberland Hospital.
Across 10 storeys, the hospital will house acute beds for young people, adolescents, adults, older persons and people living with eating disorders, as well as intensive care and high dependency units. There will also be sub- and non-acute beds, along with ambulatory and outpatient services.
The centre has been designed by Jacobs Australia to reflect contemporary models of care, connecting to the public realm and public transport to support the de-stigmatization of mental health care, while embracing biophilic design principles to create a therapeutic environment.
Aboriginal storytelling, histories and identities are also reflected in the design, developed in consultation with Traditional Custodians, consultant Cox Inall Ridgeway, and an Aboriginal psychologist.
The design includes graphic representations inspired by the eel and its stories, as well as three surrounding rivers: Parramatta River, Toongabbie Creek and Darling Mills Creek.
The primary facade is adorned in blue aluminium shingles that represent the "bubbling water" of the river streams, while the walkway between the entry forecourt and the northern landscaped area tells the story of mature eels going out to sea to have babies and younger eels coming back on the currents to fresh water.
Landscaped areas, including those in the courtyards and balconies, will include Aboriginal bush medicine plants such as emu bush, flannel flowers, waratahs and the snake vine. The hospital will sit on the land of the Dharug people.
The project is on public exhibit until 21 June.
Read more at ArchitectureAU
---
Attend Sydney Build Expo, the largest construction, architecture and infrastructure show in Australia. Gain access to 10 conference stages and networking sessions, check out 400+ exhibitors, learn from 500+ high-profile speakers and connect with 35,000+ built environment professionals.