21 Feb 2023
Dual Towers Put Forward for Sydney's South-West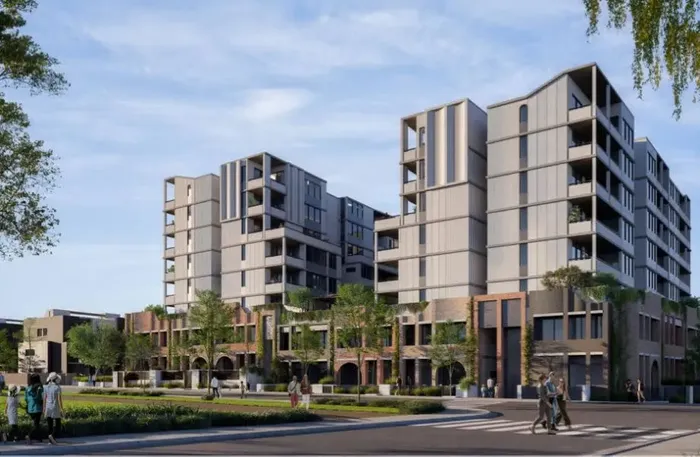 Urban Property Group, a Sydney developer, is relying on an amendment to the Edmondson Park concept plan in order to obtain a permit for the construction of 30 townhouses and 131 flats spread across two eight-story towers in the south-west district.
As the first precinct to be planned and developed as part of the South West Priority Growth Area, Edmondson Park is home to UPG's second development, which is being overseen by brothers Patrick and Mark Elias.
The New South Wales government's Landcom organisation sold UPG five lots that were once a part of the Ingleburn Army Camp.
Around 40 kilometres south-west of Sydney, the $52.7 million complex would consist of two towers above a two-story podium and include a variety of one-, two-, and three-bedroom flats. There would be thirty townhouses spread across three storeys, each with four bedrooms.
243 cars will be parked in a joint basement that is located beneath the townhouses and residential buildings.
The design was created by Cox Architecture.
In August 2011, the concept design for the construction of Edmondson Park South was approved. It permitted the construction of 3530 dwellings, the expansion of the town centre to include up to 45,000 square metres of retail and business space, and the preservation of 150 acres of conservation land.
Within 300 metres of the proposed train station, buildings with a maximum height of 30 metres were allowed.
But in September 2018, the so-called Amendment Five, one of many amendments to the original idea that demanded changes to the school zone, road layout, housing yield and mix, as well as building height, was filed.
The NSW Department of Planning and Environment was expected to approve the adjustment soon, according to town planners Ethos Urban, who filed UPG's submission with Liverpool City Council when it was being prepared.
Ethos Urban said that before the development proposal was turned over to Sydney Western City Planning Panel, there had been a number of pre-lodgement talks with Liverpool council regarding the development.
The application is still being evaluated by the planning panel.
This is UPG's second application for a residential development on the five lots that are surrounded by Buchan Avenue, Lacy Road, and McFarlane Road.
In a previous application, 178 townhouses were requested for a development with an estimated $100 million in building expenditures.
---
Attend Sydney Build Expo, the largest construction, architecture and infrastructure show in Australia. Gain access to 9 conference stages and networking sessions, check out 400+ exhibitors, learn from 450+ high-profile speakers and connect with 20,000+ built environment professionals.