29 Nov 2022
First look: Art Gallery of New South Wales expansion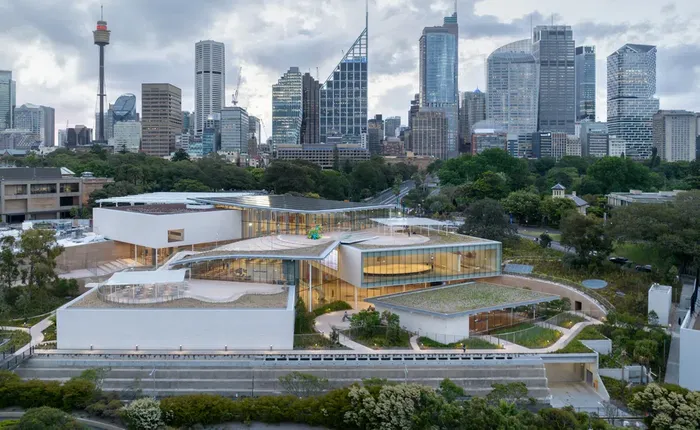 The long-awaited expansion of the Art Gallery of New South Wales – Sydney Modern by SANAA and Architectus – will open to the public on Saturday 3 December.
"It has been a wonderful honour to design such an important public building in Sydney," said SANAA directors Kazuyo Sejima and Ryue Nishizawa. "Working closely with the Art Gallery of NSW team, we aimed to design an art museum building that is harmonious with its surrounds; one that breathes with the city, the park and the harbour. We hope it will be a special place where visitors feel connected to art wherever they are in this beautiful setting."
The project is the most significant cultural development in Sydney since the completion of the Sydney Opera House almost half a century ago. The new art museum campus now comprises two buildings and a public art garden overlooking Sydney Harbour, and almost doubles the exhibition space of the original gallery.
The design includes three interlocking limestone-clad pavilions that step down towards the harbour, following the topography of the land. The new building features 250 metres of rammed earth made from materials sourced from across NSW and creates a dramatic curve through the building. An 11-metre-high atrium at the centre also serves as a sculpture gallery.
The building also includes spaces for art research, education, as well as multipurpose spaces, food and beverage facilities and visitor amenities. A gallery shop designed by Akin Atelier features a unique handcrafted bio-resin installation by Hayden Cox, made from the same material used to make surf boards.
An original World War II naval fuel bunker on the site has been transformed into a 2,000-square-metre art space with a seven-metre-high ceiling.
The project also features a series of open spaces, including 3,400 square metres of accessible roof terrace and courtyards, a public art garden and a civic plaza, as well as improved universal walkways. The landscape was designed by McGregor Coxall and US landscape architect Kathryn Gustafson, who also redesigned the forecourt of the original building that now features two black granite reflecting pools, as well as seating and shading opportunities. More than 8000 square metres of green roof has been planted with 50,000 Australian natives species and 70 percent more trees, which will increase the biodiversity of the site.
The Welcome Plaza canopy, which creates a sheltered space for visitors and community gatherings, is made with 108 pieces of curved, form-cast glass with ripple patterns that echo the glistening water in the nearby harbour.
"Our vision has been to transform the Art Gallery into an art museum campus with seamless connections between art, architecture and landscape," said AGNSW director Michael Brand.
The project also creates a destination for Aboriginal and Torres Strait Islander art with a dedicated gallery space, Yiribana, which will be the first gallery visitors will encounter as they enter the new building.
The original 1896 gallery building, designed by Walter Liberty Vernon, has also been refurbished by Tonkin Zulaikha Greer, and includes an upgraded members' lounge and Australia's first children's art library, which has been added adjacent to a new Capon Research Library and the National Art Archive.
The Art Gallery of NSW is now the first public art museum to achieve a six-star Green Star rating. The gallery uses 100 percent renewable energy, with solar panels on the entrance pavilion roof generating 10 percent of the gallery's energy needs.
The $344 million project is funded through a state government investment of $244 million while the gallery raised the remaining $100 million, making it the largest public and philanthropic partnership of its kind in Australia.
Read more on ArchitectureAU
---
Attend Sydney Build Expo, the largest construction, architecture and infrastructure show in Australia. Gain access to 9 conference stages and networking sessions, check out 400+ exhibitors, learn from 450+ high-profile speakers and connect with 20,000+ built environment professionals.