25 Oct 2021
First Look at Design for Parramatta Square Community Centre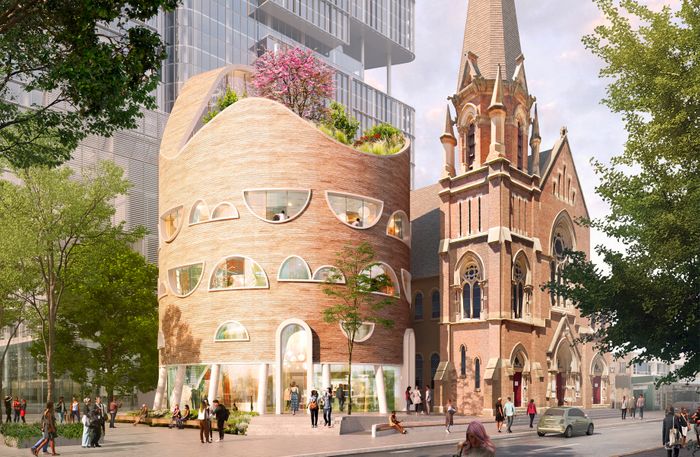 Parramatta Mission has chosen a cylindrical brick building designed by local architecture company Durbach Block Jaggers as the winning idea for their new community hub in the heart of the new CBD.
The community building will house Parramatta Mission's workers, function as a hub for the organization's social services, and serve as a gathering area for the general public.
The new meeting space will be built to replace an existing three-story office structure and will be used by the Darug nation's traditional proprietors, the Burramattagal people.
The winning design, according to Parramatta Mission board member Ian Gray, recognised the significance of the site to the traditional owners, with evidence of Aboriginal settlement stretching back over 60,000 years in the area around Parramatta Square.
"The Uniting Church is working in partnership with the Parramatta council in order to reach an agreed position that recognises the loss of development potential of the site," Gray said.
"Construction of this iconic community building can then commence as soon as possible."
Gray stated that further comprehensive design work may be required, and that once the design was finalised, it was planned to move forwards with preparing a development application.
"We welcome the lodgement of the development application for this building in the near future and look forward to seeing this important community facility becoming a reality," Parramatta lord mayor Steven Issa said.
The structure will be built next to the old Leigh Memorial Church. The church, which was completed in 1885, is located on Macquarie Street, on the outskirts of the Parramatta Square dense development area.
Both structures will be located on Parramatta's Civic Link, a new green, pedestrianised corridor connecting the Parramatta CBD and the river.