20 Aug 2023
Fremantle Passenger Terminal to Be Powered by Solar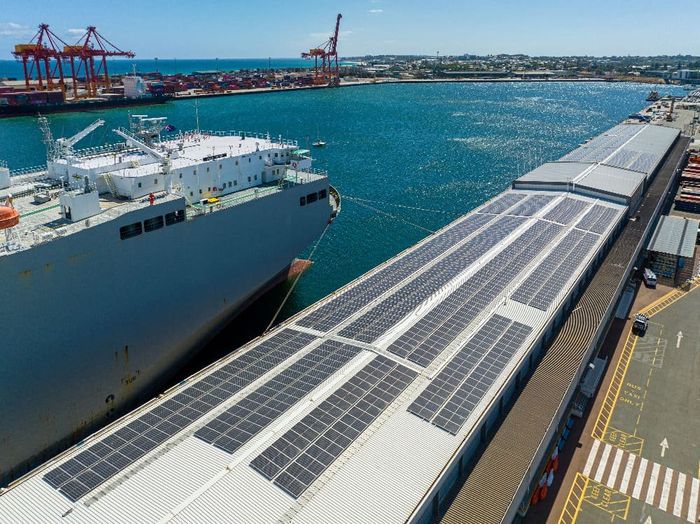 A major solar array has been completed on the roof of the Fremantle Passenger Terminal, which is set to help power Victoria Quay.
Comprising more than 1,100 individual panels and covering much of the building's roof, the 500kw solar array will be able to supply 100 per cent of the passenger terminal's needs during cruise ship operations, and 65 per cent of Fremantle Ports' administration building requirements.
Fremantle Passenger Terminal is a heritage-listed building, which meant approval from the Heritage Council was required prior to the solar array being installed.
Careful consideration was also given to ensuring the installation would not be visually detrimental to the building's heritage values, while a glare analysis report was undertaken to confirm there would be no increase in the glare index for adjacent residents in Fremantle or ship-board passengers. The panels cannot be seen from the surrounding area, at ground level.
The installation of the new solar array complements recent investment of $3 million by the Western Australian Government to upgrade and refurbish the Fremantle Passenger Terminal. The system is expandable to meet future needs, if required.
Western Australia Minister for Transport, Planning and Ports, Rita Saffioti, said that this is a great example of how community assets, like the Fremantle Passenger Terminal, can play a role in climate action.
"The passenger terminal is a very large building which made it ideal for installing 1,100 solar panels, delivering one of the largest rooftop solar arrays in the metropolitan area," Ms Saffioti said.
"The State Government is committed to achieving net zero emissions by 2050 and, with this project, Fremantle Ports has demonstrated strong and sensible leadership at the local level in terms of cutting emissions."
Western Australia Minister for Climate Action, Reece Whitby, said it was exciting to see the Fremantle Passenger Terminal make the sustainable switch to solar and take action to combat climate change.
"Our Government is investing significantly in renewable energy while supporting cutting-edge solutions to the climate crisis," Mr Whitby said.
"Western Australia is embracing the solar revolution at a rapid rate and we will continue to focus on innovative ways to power our State."
State Member for Fremantle and the Minister for Training, Water and Youth, Simone McGurk, said that Fremantle locals are known for being environmentally conscious, and that it was great to see the iconic passenger terminal going green by embracing solar power.
"This impressive installation will not only help power Victoria Quay – it will have the same benefit to the environment as planting 85,000 trees," Ms McGurk said.
"Renewable energy is the way of the future, but as this project shows, the benefits to the environment can be realised without compromising aesthetics."
"This important heritage building holds a special place in the heart of many Freo locals and now is sustainable as well – contributing to Fremantle Ports plan to achieve net zero emissions by 2027."

Source: Infrastructure Magazine
---
Attend Heat, Energy, Air & Water Expo 2024, leading HVAC-R Exhibition in Australia. Gain access to 10 conference stages and networking sessions, check out 400+ exhibitors, learn from 500+ high-profile speakers and connect with 35,000+ built environment professionals.