18 Jul 2022
George Street Boutique Office Tower Secures Approval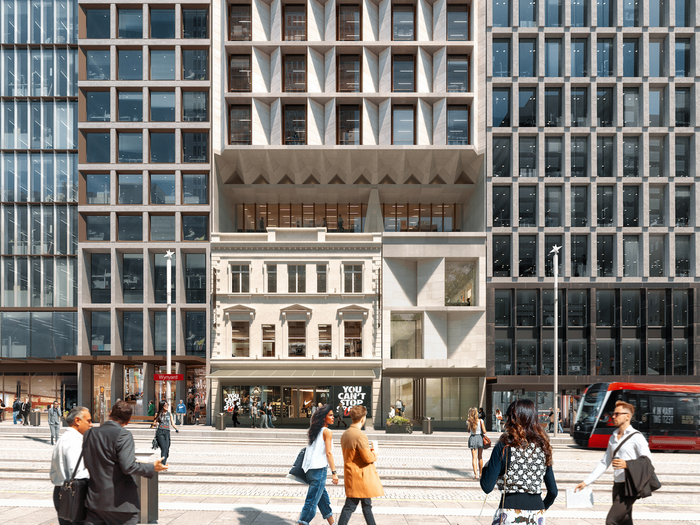 A 14-story boutique office tower with adaptive reuse of an existing heritage structure has been proposed for Sydney's revived George Street neighbourhood.
The tower will cantilever from a two-story setback over the heritage façade at 319-321 George Street, designed by Tribe Studio Architects in conjunction with Matthew Pullinger Architect.
"The original 1900s heritage building forms the base of the new development, rising to a deep, two storey setback that is richly detailed in refined natural stone, before returning to the street alignment of the adjacent buildings," a spokesperson for Tribe Studio said.
The architect separated the George Street facade into three sections: the ground-level heritage structure, a new extension that reinforces the original building's scale, and a "handsomely detailed" stone level for the new commercial floors.
The new structure draws inspiration from the adjacent buildings' great masonry and classical architecture, employing a thoughtful material palette of stone and bronze to fit the streetscape.
The facade will be sympathetic, but with carved stone parapets and deep recessive windows generating stunning angles with sunlight and shadow. The architectural expression of the brickwork will contrast with the finer filigree detail in the fenestration.
"While very clearly a contemporary building and relying on present-day machining and technology," said studio principal Hannah Tribe, "it is also a building in dialogue with its established context and keyed into the historic DNA of Sydney's retail and commercial heart."
New shop spaces will connect George Street to Wynyard Lane in the George Street building. In contrast to the George Street facade, the lane's look, according to the architect, reflects its humbler surroundings and the utilitarian essence of Sydney's service lanes.
319–321 George Route will be part of the City of Sydney's George Street precinct regeneration, which aims to turn the congested street into a pedestrian-friendly boulevard. Lord Mayor Clover Moore stated that 25,000 square metres of road have already been reclaimed for Sydney companies and people.