20 Apr 2022
Green Light for $50m Office Tower in South Melbourne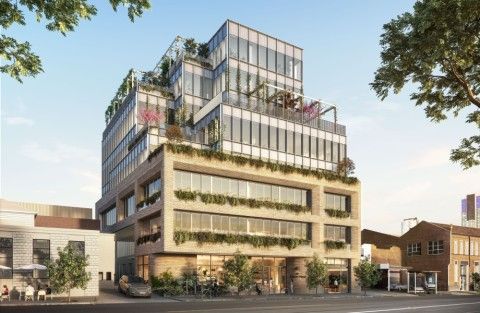 In Melbourne's CBD-fringe office sector, Fortis has received planning clearance for its next project.
The Fieldwork Architecture-designed project, with an estimated final value of $50 million, is proposed for an 855sq m site at 34 Eastern Road, South Melbourne.
The eight-story building will have 3830 square meters of office space on seven levels and 252 square meters of retail space on the bottom floor.
Two levels of subterranean parking, end-of-trip facilities, a gym, sauna rooms, and shower suites, as well as patios planted by Openwork, will be among the amenities.
People were interested in city-fringe office premises, according to Fortis director Charles Mellick.
"Organizations are growing interested in city-fringe properties like 34 Eastern Road as their workers prefer to work closer to where they live and socialize."Mellick said.
"The project is a reaction to the high demand for premium boutique offices with an exceptional combination of location, quality, and amenities," says the developer.
Due to its closeness to the CBD and the St Kilda Road office area, as well as access to major roadways, South Melbourne is proving to be a desirable site for office complexes.
The Eastern Road site is close to the Anzac Station, which is part of the Melbourne Metro Rail project now under development, as well as the Coventry and Clarendon Street retail areas and the South Melbourne Market.
In 2021, Fortis paid about $12 million for the property.
Construction is expected to begin in June 2022 and end in the fourth quarter of 2023.
Fortis is the Pallas Group's development arm, with Pallas Capital providing finance for its projects.
The developer presently has a $3 billion pipeline under development or in the works across the country.
The Gaden House, designed by Neville Gruzman and located at 24 Bay Street in Double Bay, is Fortis and Marprop's second heritage building project.
Fortis has lately made significant investments in Melbourne's office peripheral market, purchasing properties in Richmond and South Melbourne, the latter near the Eastern Road site, at 122-132 Moray Street, for $10 million.
For $16 million, the Richmond property at 1 Little Lesney Street was purchased. The land next door, at 8 Brighton Street, is owned by Fortis, which is planning a $115 million redevelopment.