29 Oct 2021
Grimshaw Triptych Tower Proposed for Surry Hills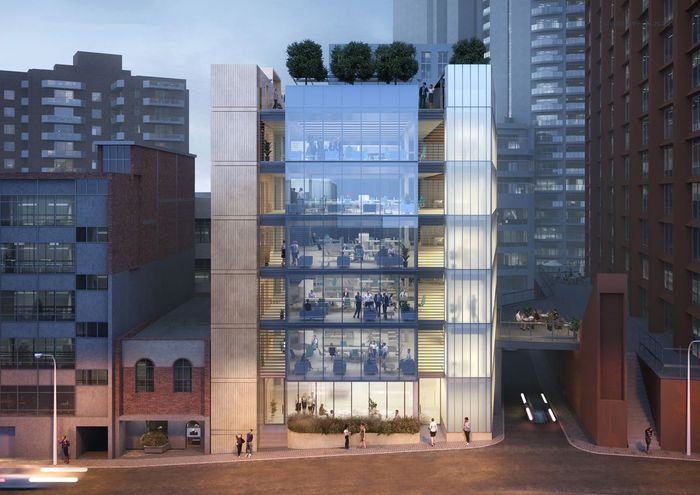 On the outskirts of Sydney's CBD, a proposed six-story commercial office building is being marketed as a "showcase" contemporary workplace that will assist the city's creative and cultural industries.
The Grimshaw-designed building will be located at 9-13 Brisbane Street in Surry Hills and will have more than 2,000 square metres of office space on the ground floor, as well as a cafe.
The structure will be divided into three sections vertically. Warm-colored in-situ concrete will be used to create an opaque core on the southern, "blind" side of the site, which will house the staircases, lifts, and building services.
The bulk of the workstations will be built of transparent glazing fixed to natural anodized steel in the central part.
Finally, the northern section will be the building's translucent edge. It will have meeting rooms and collaborative working spaces. The translucent glazing is meant to let in as much light as possible while simultaneously serving as a privacy barrier and a canvas for public art.
The three parts will be divided by recessed moveable louvres on the east and west facades, which will facilitate cross ventilation.
The building will be crowned with a 66-square-metre landscaped roof terrace, which will provide outdoor facilities for the building's tenants.
"The rooftop is envisaged as a place where the building occupants can gather and socialise," the architects said in a development application.
"Generous access to natural light and passive ventilation ensures these cultures will thrive. The concept of biophilia, which is increasingly recognized as a key consideration in the design and development of 21st century buildings has been incorporated. The idea of including nature into contemporary buildings through biophilic design, is built upon the premise that investing in a person's health and well-being brings significant benefits in performance and productivity."
The proposal also aims to be net zero carbon. "9-13 Brisbane Street [will] emerge as the exemplar boutique office building of its neighborhood. Renewing life within the Surry Hills by providing a unique workplace to the creative/tech tenants. [It] forms a vital anchor in the new ecosystem and will be a catalyst for further renewal."