05 Mar 2023
Holdmark Files $700m Sydney CBD Skyscraper Project Plans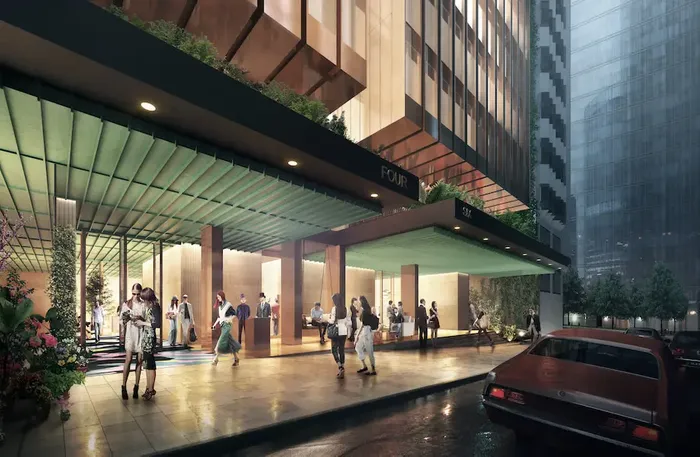 59-story tower plans have finally been submitted for a location in Sydney's CBD.Sarkis Nassif's Holdmark has submitted the proposals for the land at 4-6 Bligh Street as a State Major Development Application.The 200-key hotel would be located on levels 14 to 56 of the commercial tower, which is expected to cost $700 million in total. It would also have a rooftop bar.Moreover, there would be eight floors of office space, conference and event spaces, bars, restaurants, and shops.
"There's no question that Sydney is on the path to becoming a truly global city and we're excited to be part of that," Nassif said.
"We think there is enormous potential for tourism and that there is a long-term opportunity at the top end of the hotel market."
After a design competition for the site, the concept created by Woods Bagot was chosen.
"We're extremely proud of this design which is the first project to take advantage of the Central Sydney Planning Strategy by the City of Sydney and allows us to get the height we've been able to achieve," Woods Bagot principal and project design leader Ian Lomas said.
"We wanted to make a strong design statement and the architectural concept has been conceived as a simple sculptural form that contrasts against an unruly and congested skyline."
Graham Jahn, head of City Planning, Development, and Transportation for the City of Sydney, said the design "displayed a masterful architectural clarity and precision".
"The slender hotel tower and infill podium will complement the extraordinarily rich setting of superb heritage-listed buildings that surround the site," Jahn said.
Holdmark acquired the property last year from Singaporean company SC Capital Partners for an estimated $210 million in a deal facilitated by Fortius. The property is home to the renovated 17-storey Bligh House office skyscraper.
The Salter Brothers were apparently interested in purchasing the asset before the pandemic, which was SC Capital Partners' second attempt to sell it.
The location is directly across from one of the proposed entrances for Sydney Metro's Hunter Street Station.
"We bought the asset purely on a commercial basis because we love the location, it has great development potential and is 100 per cent occupied, which indicates that quality well-located buildings will stand the test of Covid and the test of time," Nassif said.
The Blight Street project, according to Holdmark, is a part of the company's diversification strategy. The company, which began with residential projects in western Sydney 30 years ago, is now moving more and more into commercial, retail, and hotel developments, including InterContinental Parramatta.
Holdmark received approval late last year for its $600 million Burwood Place project, which would have more than 1000 units spread over five buildings in the area of western inner Sydney.
---
Attend Sydney Build Expo, the largest construction, architecture and infrastructure show in Australia. Gain access to 9 conference stages and networking sessions, check out 400+ exhibitors, learn from 450+ high-profile speakers and connect with 20,000+ built environment professionals.