18 Jan 2023
'Impossibly thin' tower planned for Chatswood, Sydney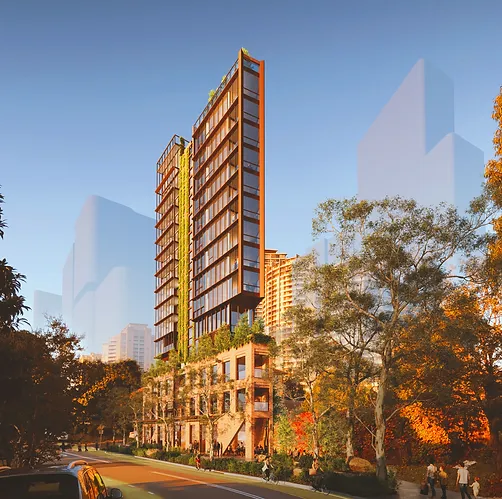 A design competition for a mixed-use development at 58 Anderson Street, Chatswood, New South Wales, was won by Sydney-based Drew Dickson Architects.

Following a competitive design process that started in June 2022, the jury unanimously decided that the proposal made by Drew Dickson Architects was the best one.
The submission's slim form in a single structure that appears to be two different towers gave the jury a "unique response to the brief," they noted.
The triangular, 550 square meter site is located on the North Shore Rail Line, Anderson Street, and Wilson Street borders.
The land was rezoned from R2 Low Density Residential to B4 Mixed Use, and the maximum building height was raised from 8.5 meters to 53 meters. The maximum floorspace ratio was also raised from 0.4:1 to 4:1 as part of the planning application presented to the City of Willoughby Council.
The 18-story mixed-use development was intended to appear "impossibly slender" and, from some angles, to mimic the Flatiron Building in New York, according to Drew Dickson director Lauren Honey.
Early January is the deadline for submitting a development application.
---
Attend Sydney Build Expo, the largest construction, architecture and infrastructure show in Australia. Gain access to 9 conference stages and networking sessions, check out 400+ exhibitors, learn from 450+ high-profile speakers and connect with 20,000+ built environment professionals.