10 Oct 2022
Innovative Partnership Set to Train the Next Generation of Trades Workers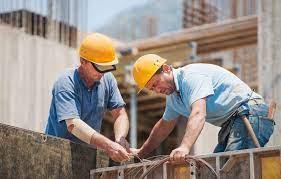 The next generation of trades workers will be equipped with the skills fundamental to building the smart cities of the future, as part of the NSW Government's revolutionary new TAFE NSW Institute of Applied Technology for Construction.
Minister for Skills and Training Alister Henskens today announced that Australasia's leading construction company CPB Contractors and Western Sydney University will join forces with TAFE NSW to pioneer new ways of training at the state-of-the-art $84 million facility at Kingswood.
"This innovative partnership will pave the way for students to merge the knowledge gained through university study with the hands-on practical and technical skills acquired through vocational education," Mr Henskens said.
"This is the future of skills and training and the NSW Government is leading the nation in investing in this critical infrastructure which will be a flagship educational centre, supporting the pipeline of major infrastructure projects which will grow the economy and help secure a brighter future for the people of NSW."
Member for Penrith Stuart Ayres said together, these partners will revolutionise education and training in Western Sydney by creating industry-led and embedded training programs which will rapidly upskill the local construction workforce.
"To have a leader in construction like CPB Contractors as a foundational industry partner for the IAT for Construction puts real muscle behind this venture and will ensure we have a sustainable workforce that will service Western Sydney's fast-growing population now and into the future," Mr Ayres said.
Managing Director of CPB Contractors Jason Spears said he recognised the need for businesses to leave a lasting skills legacy through innovative collaboration with education providers.
"We are seeing unprecedented levels of construction, and this state-of-the-art training facility will equip students with real-world skills to meet current workforce needs while futureproofing Australia's construction capability," Mr Spears said.
"We are proud to work with TAFE NSW and Western Sydney University to build a new educational model and learning experience that is flexible, scalable, accessible, and promotes greater diversity of thought across the industry."
Vice-Chancellor of Western Sydney University Professor Barney Glover AO said the Institute will leverage the university's world-leading expertise in engineering, smart construction, architecture, design, and advanced manufacturing.
"This is an exciting new model for education and training. With this Institute, we will co-design and co-deliver highly flexible education programs that integrate research-led learning with advanced technical and industry-based skills," Professor Glover said.
The Institute of Applied Technology for Construction at TAFE NSW Kingswood is due to open in 2023.