08 Oct 2021
Kerry Hill Architects Designs Expansion of WA's Significant Brutalist Structure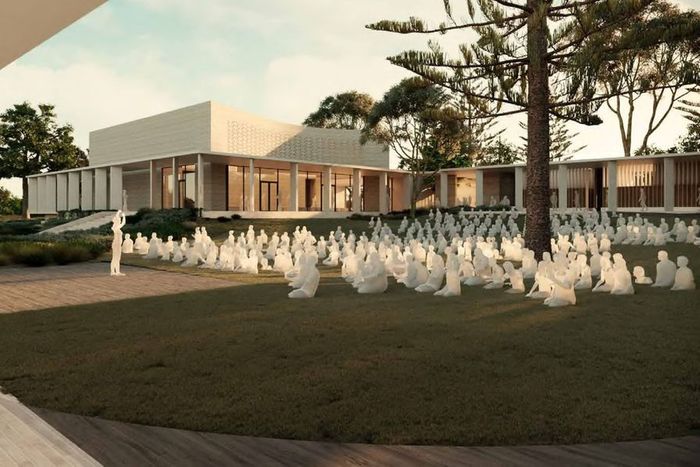 As part of a proposed $18.3 million redevelopment designed by Kerry Hill Architects, a landmark brutalist building at Perth's oldest private boys' school has been designated for expansion.
At its Wembley Downs site, Hale School is planning to extend the 1961 Memorial Hall while also destroying and replacing the Stow Theatre, constructing new media studies classrooms and house homerooms, and constructing a new courtyard.
Kerry Hill Architects was chosen as the project's primary architect after the school sponsored a design competition. The practice faced the brief head on, creating a concept that not only addressed the requirement for a larger Memorial Hall, but also addressed the school's presentation to the prominent corner of Hale Road and Unwin Avenue, according to the assessment panel.
The Memorial Hall, designed by Marshall Clifton and Anthony Brand in collaboration with Brand Ferguson and Solarski, won the RIBA Bronze Medal in 1961 and is listed on the Australian Institute of Architects' register of nationally significant twentieth-century architecture as the first building in Western Australia "to be influenced by Le Corbusier's brutalist style." The reconstruction will see much of the internal structure removed but the external shell will be preserved largely intact, increasing seating capacity to 1,650. The considerable east elevation, prominent exterior concrete columns and concrete fenestration, and the bas-relief moulded balustrades will all be preserved.
A new building to the south of the Memorial Hall will hold the new 220-seat Stow Theatre, the media studies centre, and house homerooms, while a new courtyard with an outdoor stage will be introduced between the buildings.
The design idea relates to Hale School's location on the sand dunes of the Swan coastal plain, according to planning documents, and the materials palette reflects this, with new masonry and concrete rendered in muted, sandy tones.
Aspect Studios' landscape design tries to "mimic the swathes and undulation of the dunes through colour, texture, and form," as well.
In addition to the work designed by Kerry Hill Architects, the school plans to construct a new maintenance shed and parking lot, which will be designed by Site Architecture.
The Metro Inner-North Joint Development Assessment Panel in Western Australia considered the planning request on 4 October.