07 Sep 2021
Kuraland's $100m Bid for Claremont 17-Storey Tower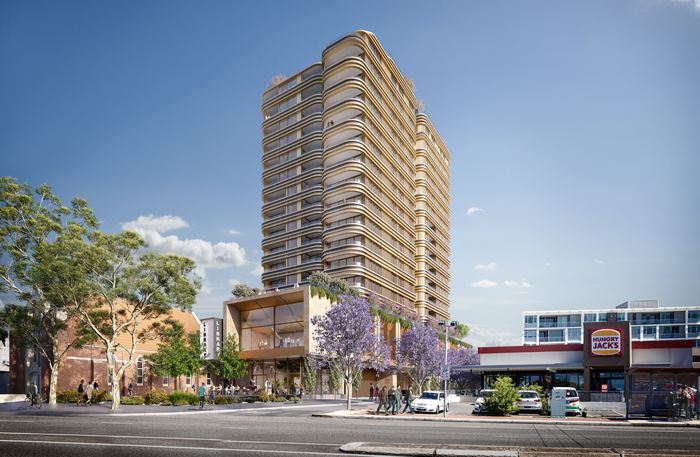 Kuraland, a developer from Western Australia, has submitted designs for a 17-story mixed-use tower in Claremont.
In the town, which is around midway between the Perth CBD and Fremantle, the under-developed two-story commercial facility next to Claremont Quarter at 22 St Quentin Avenue would make way for 86 apartments over 14 stories, as well as two floors of office and retail space.
The mixed-use development for the 1951sq m site was designed by Perth firm Pennock Architects, with a pedestrian connection to Stirling Highway and improved views of the historic Methodist Church.
Kenny Lim, Kuraland's managing director, said the developer had engaged in a two-year engagement process with the community, council, and adjacent companies.
"Based on community feedback we've designed a larger and more welcoming Claremont Square to suit a broad range of community interests with a variety of dining and premium shopping options," Lim said.
"It will also be more open and connected, enabling it to be accessible for everyone including those with a disability and the elderly."
The tower, according to Lim, would house roughly 150 people and will infuse $3.5 million into the local retail sector while also rehabilitating the church, preserving mature trees, and constructing a new library portico.
Sean Lim, one of the project's co-directors, estimated that the project would cost around $100 million, create 180 construction jobs, and support another 100 new jobs in the neighbourhood.
According to Lim, around 70% of Claremont residents polled believed that more residents would "activate" the town centre.
"After successfully building premium developments across the world, both Kenny and I wanted to give something back to the place where we were raised and educated," he said.
"To us this meant bringing life and retail opportunity back to an area that had been long neglected and making the centre of Claremont a place that people again want to visit."
"Visitors and residents told us quality was important for public areas, which is why we've selected high-quality building and landscaping materials which demonstrate a timeless innovative aesthetic."
Under the significant development assessment section of the Western Australian Department of Planning, Lands and Heritage, the plans have been submitted.