20 Sep 2022
Lendlease Developed North Sydney Office Reaches Structural Completion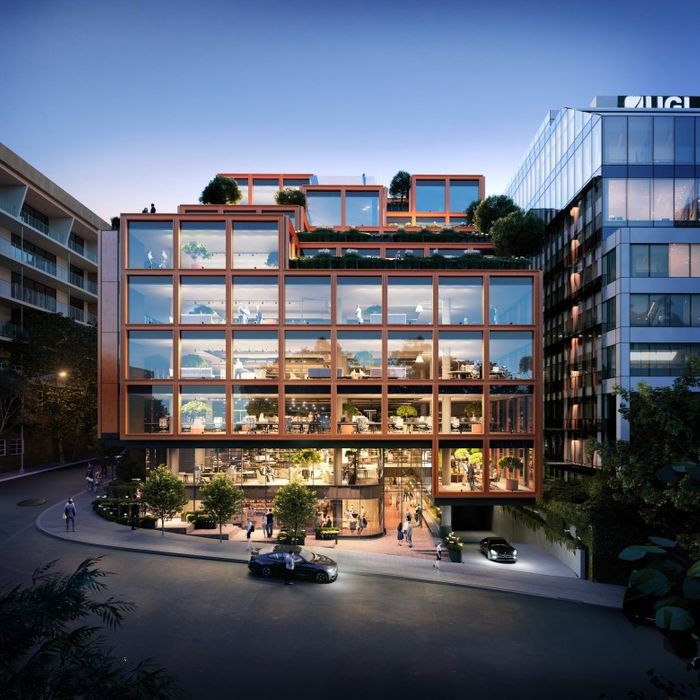 An A-grade boutique office building in North Sydney, the rapidly expanding second CBD of the NSW capital, has been finished by Lendlease.
With a goal of achieving a 5.5 star NABERS Energy Rating and a 5 star Green Star Rating, the 10-level tower at the intersection named Blue & William has been constructed with an emphasis on "wellness and tenant experience."
The complex was bought by Singapore's Keppel REIT for $327.7 million in December of last year through the company's funds unit. The project was abandoned by private developer Thirdi not long after construction with contractor FDC began in November.
Before presenting designs for the office development in late 2019, Thirdi combined the 2300 sq m development site at 2-4 Blue Street and 1-5 William Street with private equity firm Phoenix Property Investors. In five buildings, the project replaces 40 residential apartments.
Lisa Gordon, the head of commercial development at Lendlease, noted that during the pandemic, many companies were actively seeking the "next generation" in the workforce.
"North Sydney is on a path to complete transformation, with new commercial developments committing to the future vision for the area," Gordon said.
"We're increasingly finding that prospective tenants are seeking out high quality, flexible and wellness conscious office spaces in prime locations."
It joins a number of other brand-new office buildings in the neighbourhood, including Winten Property Group's Nine-anchored tower at 1 Denison Street and Dexus' brand-new 100 Mount Street building. In order to gain access to commercial premises in North Sydney, other organisations like Mirvac have also exploited the strata renewal technique.
The Woods Bagot-designed project for Lendlease will have 15,000 sq m of floor area with floor-to-ceiling windows and harbour views. A cafe, end-of-trip amenities, and a beautiful rooftop garden are all included.
According to Woods Bagot architect Jason Fraser, the character of Blue & William is an immediate reaction to the neighbourhood, which is characterised by red bricks and terracotta roofs that descend to the harbour's edge and are encircled by a forward-thinking workplace.
"Our first approach with every project is to understand the site, its history and what it means to the local community," said Mr Fraser.
"Materials are very much drawn from the local community, terracotta from the roofs, red brick from the previous buildings that used to occupy the site, and sandstone from the earth and local heritage buildings.
"Terracotta is contextual, natural and celebrates its imperfections. Typically, it's used in a prosaic way as a standard roofing material on Sydney's older apartment and housing stock. This made it the perfect material to reinvent through a glossy, glazed finish, form and detail that catches the Sydney light and brought a level of sophistication to the building which, without it, would have been a couple of simple glass boxes.
"It is an unusual material for a commercial building and we believe the custom extrusion technique that was used to create the frames is a first for Sydney."