29 May 2023
Liverpool's Civic Centre Reaches Milestone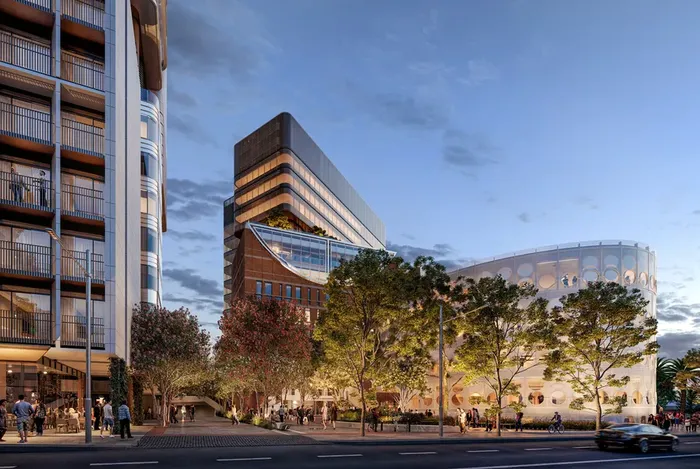 Liverpool Civic Place, a $600 million development that combines council chambers, community facilities, commercial offices and a hotel, is taking shape, with the first stage of the precinct topping out on 17 May.
Designed by FJC Studio (formerly FJMT Studio), Liverpool Civic Place will set two office towers, a public library and an art gallery around a new public square.
The most prominent building on the corner of Scott and Macquarie Streets will be the new library, distinctive for its circular plan and offset levels.
Liverpool mayor Ned Mannoun said the precinct, which is being developed in a public-private partnership between Liverpool City Council and developer Built, would be fitting for Sydney's so-called "third CBD."
"South West Sydney is one of Sydney's fastest-growing districts, and the opening of the Western Sydney International Airport and Aerotropolis has catalysed investment in a wide range of knowledge-intensive industries that will also generate significant employment and economic opportunities for the south-west region," he said.
"Liverpool will be at the centre of this growth and will strategically connect businesses from east to west. It will also be home to one of the city's fastest-growing and most inclusive populations, which is expected to double to half a million people in the next 20 years. It represents the modern face of multicultural Australia, with more than 40 percent of our residents born overseas and half of our population speaking a language other than English."
The first commercial office tower is expected to be completed later in 2023. Stage one will also include the opening of the new council chambers and offices, public library, art gallery and public square.
Stage two of the precinct will include a nine-storey hotel and the second commercial tower, with construction expected to begin shortly.
"Liverpool Civic Place will also be one of Greater Sydney's most connected precincts, offering just a 30-minute connection to Sydney Airport and the new Western Sydney International Airport, less than four minutes' walk to Liverpool train station and direct access to the M5, M7 and new M12 motorway connection to the new airport," said Built development director Jono Cottee.
Source: ArchitectureAU
---
Attend Sydney Build Expo, the largest construction, architecture and infrastructure show in Australia. Gain access to 10 conference stages and networking sessions, check out 400+ exhibitors, learn from 500+ high-profile speakers and connect with 35,000+ built environment professionals.