Multiplex Completes 'Jenga-Like' Quay Quarter Tower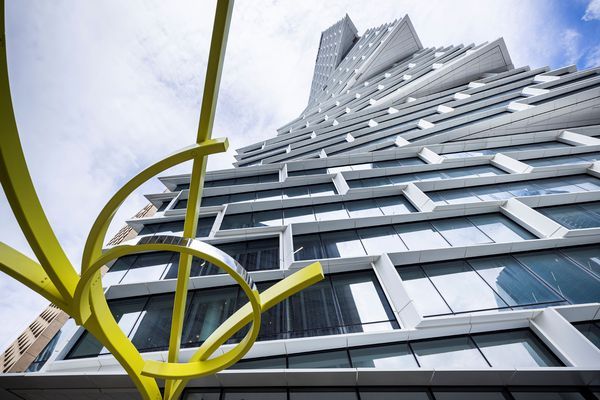 In Sydney's Circular Quay, a 49-story twisting office tower designed by Danish firm 3XN and executive architect BVN has been built.
The architects describe the tower form as "jenga-like," with five volumes placed slightly askew on top of each other to break down the scale of the skyscraper into five more human scale vertical villages.
"As the building rises, the northern façade shifts to the east. The result is a rotating building with a minimal perceived mass, enhanced views over the Opera House and Harbour, and a greater value for the lower floors through maximizing the potential of the views," said 3XN. "Rotating the tower also creates a collection of exterior terraces that are directly linked to the multi-level interior atria, which will contain shared amenity spaces for tenants in each block."
The new skyscraper replaces the previous AMP Centre at 50 Bridge Street, which was erected in 1976 and was designed by Peddle Thorp and Walker.
It keeps 68 percent of the old building's framework while adding 45,000 square metres on the north side.
"The design optimizes the embodied energy and resources inherent in existing building and results in a remarkably efficient plan," said 3XN.
The project conserved around 8,000 tonnes of embodied carbon by upcycling the old building, making material selections, and other factors.
The AMP Capital Quay Quarter Sydney area comprises four more buildings built by Studio Bright, Silvester Fuller, Carter Williamson, and SJB.