08 Sep 2023
New Battery and Solar System Powers Mickleham Road Upgrade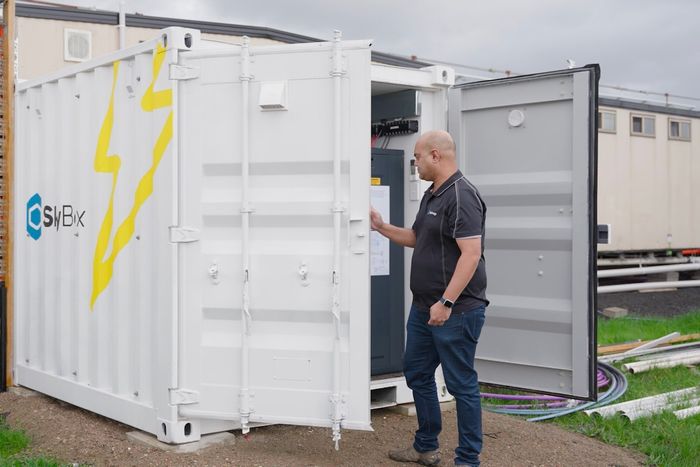 A recently constructed integrated battery and solar generator system is storing clean energy from 30KW solar panels and providing power to the Mickleham Road Upgrade – Stage 1 HQ.

Crews have installed the extensive Skybox Energy Storage System at the project's compound site just outside Greenvale, which is where the two batteries are in operation.
Major Road Projects Victoria, supported by construction partner BMD, have invested in the two batteries as part of the SkyEnergy Storage System – a 60-kilowatt-hour system using Skybox batteries which are integrated with the Mickleham Road Upgrade – Stage 1 HQ.
"We are proud to have flicked on the switch of a battery and solar generator system, as part of the industry's transition to clean energy systems at construction compounds just like our very own for the Mickleham Road Upgrade – Stage 1," said Major Road Projects Victoria Program Director Adrian Furner. "We are continuing to modernise our construction compounds, strengthen our energy security and deliver real action on climate change."
This is SkyEnergy's biggest battery assembly at the headquarters of an Australian infrastructure project – big enough to power the compound for up to 18-20 hours straight in summer.
Along with being able to store and quickly release energy for the project's headquarters, the batteries can also provide renewable energy into the Victorian grid.
The batteries are charged by the solar farm and store 100 per cent renewable energy – with up to 40 per cent to be injected into the electricity grid at times during summer periods.
Construction and assembly of the batteries and solar panel system has supported 10 direct jobs.
SkyEnergy Solar, Battery and off-grid Systems Consultant Ashwin Shenoy said the size and scale of the system is larger than any other project SkyEnergy has worked on for MRPV.
"The site has so far avoided over 6 tonnes of CO2 within a 90-day period and is projected to avoid over 30 tonnes after 12 months," said Shenoy. "This, along with significant savings through the life of this system, will count as a success story that all parties involved can be proud of."
The system will help the Mickleham Road Upgrade – Stage 1 reduce the project's reliance on wholesale electricity by storing cheap renewable energy when the weather makes it plentiful and discharging it into the grid when possible.
The investment in a large-scale battery storage system, such as this at the hub of a major infrastructure project, will boost reliability, drive down reliance on diesel-powered generators and support the state's transition to renewable energy.
Drivers, cyclists and pedestrians in Greenvale are a step closer to safer and more reliable journeys with major construction underway on the Mickleham Road Upgrade – Stage 1.
BMD is building the project in partnership with Major Road Projects Victoria. "We are excited to be partnering with SkyEnergy who have provided us with the Skybox technology," said BMD Project Engineer Lachlan McNab. "Successes and learnings from our previous project have inspired us to strive to be even better when it comes to sustainable outcomes."
"It's possible that in the summer months up to 40 per cent of the energy generated may be supplied back into the power grid and in the winter months we expect to only rely on the grid for a third of the compound's energy needs."
Over the spring months, crews will continue jet fuel pipeline protection works, utility relocations, pavement and construction works, paving the way for further major construction activities later this year.
The Mickleham Road Upgrade – Stage 1 will add new lanes for approximately 1.6 kilometres between Somerton Road and Dellamore Boulevard, add new traffic lights at Aitken College, and replace the roundabout at Somerton Road and Mickleham Road with a new traffic light intersection, including priority bus lanes. New traffic signals will also be constructed at Hillview Road and Dellamore Boulevard.
Source: Inside Construction
---
Attend Heat, Energy, Air & Water Expo 2024, leading HVAC-R Exhibition in Australia. Gain access to 10 conference stages and networking sessions, check out 400+ exhibitors, learn from 500+ high-profile speakers and connect with 35,000+ built environment professionals.