22 Jul 2022
New Cultural Precinct for Sydney's Inner West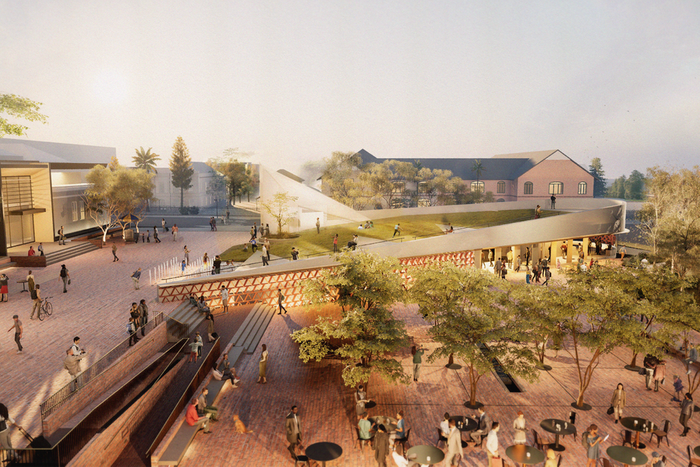 An urban park and cultural hub have been created for Burwood, in Sydney's inner west, by Chrofi and Tyrrell Studio.
The project, which will be built on the site of the current Burwood Library parking lot, aims to create a new arts and cultural centre with a café, a community lounge, studio spaces, multipurpose halls, a 200-seat theatre, and other public amenities in addition to creating open space and a tree canopy in the suburb's town centre.
The design team was chosen by the local council in 2020 after a competition that saw Chrofi and Tyrrell Studio win.
Burwood's council commissioned Chrofi to create a city-wide masterplan in 2019 in response to the city center's quick transformation from a low-rise suburban centre to a high-rise strategic centre.
Chrofi picked the site as an appropriate park location that could boost amenity in the city due to its "sunny location and proximity to existing civic and heritage asset," the architect said, in response to Burwood's limited public domain, incidence of overshadowing, and poor scale transitions.
"Burwood is a rapidly densifying centre with limited opportunities for new public space, so any development of public land needs to work hard to satisfy the diverse needs of the growing population," said Chrofi director Tai Ropiha.
The cultural centre is shaped like a wedge that resembles it is emerging from the ground and has an open area on top. According to the architects, "the idea to have a community building under the open space maximises the potential of the site to respond to community needs."
The layout of the park has been planned, according to the concept designs, to articulate three landscaped spaces that provide pedestrian links between the Hornsey Street precinct, the public library, and the nearby destinations of the Burwood train station.
The design team suggests drawing inspiration from the fine-grain brickwork of Burwood Public School and the terracotta of the federation residences in order to interact with the history of Burwood's heritage structures. The idea combines terracotta screens, repurposed brick pavers, and cladding to engage with these current material constraints and establish a feeling of place and continuity.