03 Jun 2022
New Plans Filed for $225m Tower on George Street Cinema Site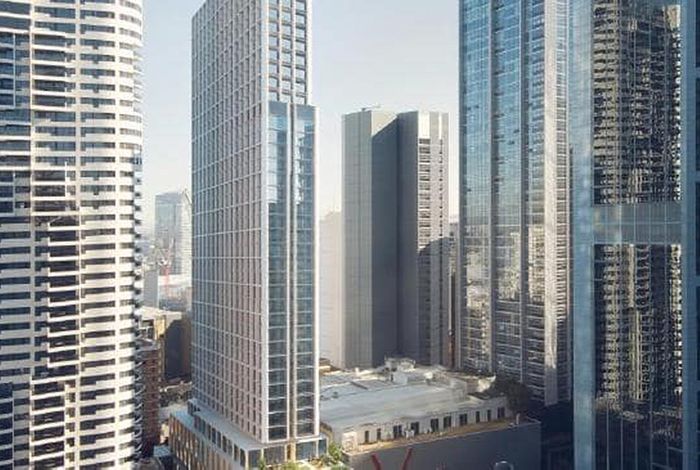 The final remaining cinema on Sydney's entertainment district, George Street, will be demolished to make way for a $225 million mixed-use tower.
However, the CBD centre, which has been home to theatres and theatres since the early 1900s, has yet to be recognised.
A comprehensive architectural concept for a 44-story tower featuring a five-screen cinema complex has been unveiled in a development application filed with the City of Sydney Council.
The cinema will span three lower levels of the proposed complex and will continue the precinct's legacy as a paradise for moviegoers, with a total capacity of 356 seats.
The designs filed by ASX-listed Event Hospitality and Entertainment, which owns the 1858sq m site at 525-529 George Street, are for 115 flats on 22 floors and a 292-room hotel on 17 levels, all of which will sit atop a six-level podium with an upper and lower ground floor.
In 2020, the tower's concept plan was authorised, and a competitive design alternative procedure was conducted, with Candalepas Associates submitting the winning scheme.
Its ultra-slim tower proposal was praised for producing a "arresting urban silhouette" with a "subtle, elegant presence on the skyline" and was rated "the most likely to achieve design excellence."
The podium was also seen as a more polished technique that was "capable of achieving a lively public experience [that] responds to the surrounding context and character."
Since 1909, elements of the property have been associated with various forms of theatrical and cinema use, according to the submitted planning documents.
Three different titles were merged into the property that was the subject of the development application in 1969, and the previous structures were removed and a single Greater Union cinema complex was built a decade later.
The Greater Union and neighbouring Hoyts movie complexes were then merged to establish Event Cinemas in 1999, but the buildings remained in independent ownership and have separate titles.
Event's proposed George Street skyscraper includes podium-level restaurants and bars, retail tenancies, and conference facilities, as well as a private rooftop terrace, public area, and architectural roof feature.
"[Overall] the design is contemporary and responsive to the nearby heritage items providing greatly improved frontages to both George and Kent streets," the design report stated.
505-523 George Street lies adjacent to the site's northern boundary, and developers Mirvac and Combes Property Group received preliminary approval in 2020 for a $1 billion, 80-story residential skyscraper that would be Sydney's tallest apartment tower.