02 Mar 2023
One Circular Quay Hotel the Waldorf Astoria Sydney Sold to Fiveight - Mcvay and Cbre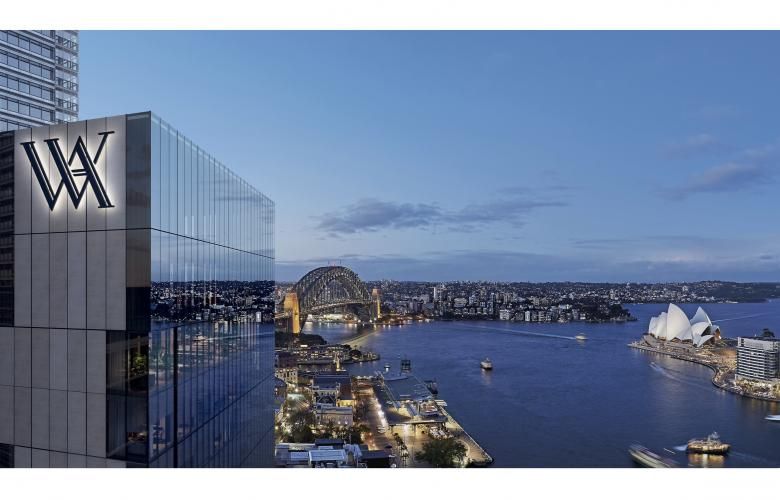 Tattarang's property business, Fiveight, and Lendlease and Mitsubishi Estate Asia have executed contracts for the sale and delivery of the hotel at their $3.1 billion One Circular Quay building in Sydney. A significant amount of the sales price becomes due in April 2023, which is when the contract is slated to finalise. According to reports, the deal is the largest hotel asset transaction in Australia's history and the highest price per room ever.
The hotel, which will be built as the Waldorf Astoria Sydney and will be the first of its kind in Australia, will be situated next to One Circular Quay, a luxury residential tower built by Lendlease and Mitsubishi Estate Asia on the site of the former Gold Fields House. One Circular Quay Residences and Waldorf Astoria Sydney are poised to rank among the most sought-after places in the world to live and travel.
The 220-room hotel, created by Kengo Kuma & Partners, will revolutionise luxury lodging and provide unmatched views of Sydney Harbour, the Opera House, and Sydney Harbour Bridge. Restaurants, health and wellness centres, an indoor pool, ballrooms and function spaces, boardrooms, and a rooftop bar and restaurant are just a few of the opulent amenities available to visitors.
As part of the arrangement, Lendlease and Mitsubishi Estate Asia are developing and building a hotel and residential complex that will include about 430 square metres of ground floor retail for Fiveight.
The 158 residences at One Circular Quay include six sub-penthouses on levels 50 to 55 and a three-level penthouse with five bedrooms, a private lift, floor to ceiling windows with panoramic views of Sydney Harbour, and a north-facing swimming pool and patio.
Lendlease and Mitsubishi Estate Asia established a joint venture in July 2022 to buy Sydney's One Circular Quay for $850 million.
In the joint venture, Mitsubishi Estate Asia owns a 66.7 percent stake.
The development's construction is expected to begin in early March and last until the end of 2026.
Lendlease Australia's Managing Director of Development, Tom Mackellar, remarked "This landmark transaction with Fiveight is a rapid execution of our Circular Quay strategy and a major milestone for the precinct's revitalisation, bringing us one step closer to transforming the centrepiece of Sydney's spectacular harbour."
"Alongside Australia's first Waldorf Astoria, the residences at One Circular Quay represent a once- in-a-lifetime opportunity in luxury harbourside living with local buyers already claiming their stake in Sydney's most prestigious and sought-after address."
Yuzo Nishiyama, Head of Australia, Mitsubishi Estate Asia, said "We are thrilled to be working closely with Fiveight on realising this world-class hotel at Australia's symbolic harbour, and delivering a unique and unforgettable staying experience. We are determined to deliver the One Circular Quay project, formed by Australia's first Waldorf Astoria, and the luxury residences, to further rejuvenate the greater Circular Quay precinct." The hotel will be built as the first Waldorf Astoria in Australia and will be called Waldorf Astoria Sydney. As part of the agreement, Fiveight is also buying the retail space on the hotel's ground floor and the residence owned by Lendlease, One Circular Quay.Michael Simpson Managing Director CBRE Capital Markets Hotels, told The Hotel Conversation, "We are privileged to have represented two of the world's largest and most accomplished developers Lendlease and Mitsubishi Estate Asia to facilitate this landmark transaction"

"The Hotel was highly coveted among domestic and international buyers, which isn't surprising given it sits at the northern gateway to the Sydney CBD and commands never to be built out "postcard" views of "the three icons" – the Harbour to the heads, the Harbour Bridge and the Opera House, added Mr Simpson.

Mr Simpson further commented, The Sydney luxury hotel market is "coming of age" with the recent introduction of the Crown, the impending opening of Capella Sydney, the W Sydney later this year and now one of the world's most renowned and highly coveted pinnacle luxury brands, Waldorf Astoria.Sam McVay from McVay Real Estate and Michael Simpson from CBRE Hotels are the agents who handled the sale.
---
Attend Sydney Build Expo, the largest construction, architecture and infrastructure show in Australia. Gain access to 9 conference stages and networking sessions, check out 400+ exhibitors, learn from 450+ high-profile speakers and connect with 20,000+ built environment professionals.