11 Sep 2023
Port of Melbourne Completes Sustainability Linked Loan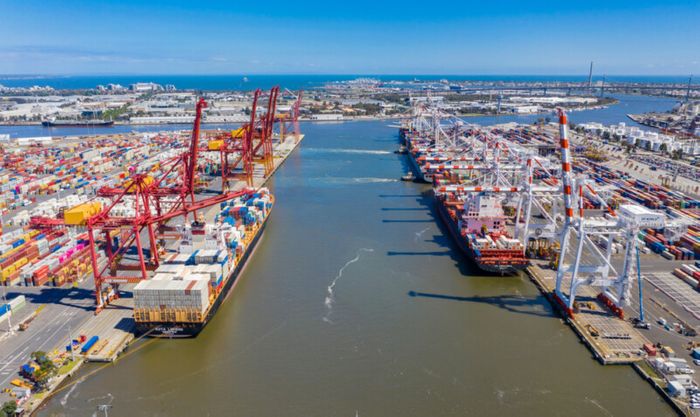 The Port of Melbourne (PoM) has announced the completion of a $475 million sustainability linked loan (SLL), which will see the company further its net-zero efforts and support its workplace mental health.
The loan, financed by a syndicate of ten banks, links to two sustainability indicators covering scope one and two emissions reduction – and a mental health first aid workplace certification – together with an overarching gateway target tied to engagement with port stakeholders to facilitate scope three emissions reduction.
PoM CEO, Saul Cannon, said the deal reflected PoM's goal of working with stakeholders to build a sustainable port for the benefit of the Victorian economy and liveability of Melbourne.
"As Australia's largest general cargo and container port, we are committed to facilitating the decarbonisation of the port's supply chain, minimising the port's impact on our land, air and waters and building strong stakeholder relationships," Mr Cannon said.
"Linking an element of our financing structure to sustainability embeds our people, our environment and our stakeholders into what we do now and in the future."
PoM recently announced a target to achieve net-zero scope one and two emissions by 2030, through the sourcing 100 per cent of its electricity from renewables, and the electrification of its vehicle fleet and marine survey vessel.
Along with a new commitment to mental health first aid training and certification, achieving this net-zero ambition is a key plank of the new SLL.
"In addition, we've committed to engaging with our tenants, shipping lines and other port users on emissions reduction measurement and opportunities," Mr Cannon said.
PoM is already progressing various initiatives to potentially reduce scope three emissions, recently signing a Memorandum of Understanding (MoU) with industry, to explore the commercial feasibility of establishing a green methanol bunkering hub.
Australia and New Zealand Banking Group and BNP Paribas acted as Mandated Lead Arrangers & Bookrunners and Sustainability Coordinators on the transaction.
PoM's sustainability efforts have been recognised by the Global Real Estate Sustainability Benchmark (GRESB).
PoM achieved a five star rating in the 2022 GRESB Infrastructure Asset Assessment and was recognised as the most improved in the ports sector.
Source: Infrastructure Magazine
---
Attend Heat, Energy, Air & Water Expo 2024, leading HVAC-R Exhibition in Australia. Gain access to 10 conference stages and networking sessions, check out 400+ exhibitors, learn from 500+ high-profile speakers and connect with 35,000+ built environment professionals.