09 Sep 2021
R U OK? Day 2021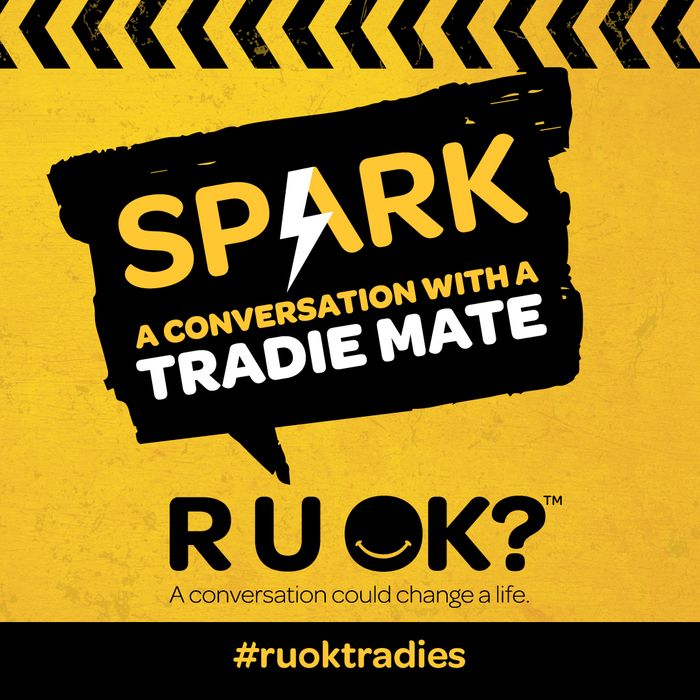 R U OK? Day
R U OK? Day is held on 9th September annually in Australia and we're calling on everyone to check in with the people in their world and ask if they're really OK, not just today but every day.
"R U OK? is encouraging all Australians to pause and consider how the people in their world are really going, and to make asking 'are you OK?'a part of their everyday life," Katherine Newton, R U OK? CEO said.
Conversations regarding people's mental health should not be limited to times when they are visibly distressed or experiencing a crisis, but should instead be a regular occurrence and a reminder that support may make a difference.
"None of us are immune to life's challenges whether that's a relationship breakdown, financial worries, work pressure or, sadly for some, the loss of a loved one," Ms Newton explained.
Tradies Tool to Talk
R U OK? has developed FREE resources with practical tools and tips for tradies to learn how to spot the signs that someone on their worksite or in their team might be struggling. These resources can empower tradies with the knowledge and confidence to spark a conversation with a mate who might be doing it tough .

The R U OK? Tradies resources provide practical tools and tips for family, friends and workmates to spot the signs that someone on their work site may be struggling, to empower them to spark a meaningful R U OK? conversation and to help them find support if needed.
Resources are completely free to download on R U OK? website: click here
Learn how to ask: click here
Find Help
R U OK? is not a crisis support or counselling service and their website is not a substitute for professional care. If you need professional support, please contact your doctor, local health centre or one of the services listed below. Family and friends can also call upon these services for advice and assistance on how to support someone who is struggling with life.
If you are having suicidal thoughts, please seek assistance by contacting your trusted healthcare professional or calling Lifeline on 13 11 14.
If you are concerned for your safety or the safety of others, seek immediate assistance by calling Triple Zero (000).