29 Mar 2021
Recent Speakers Announced for Australia Build Week Online, Sydney Build Expo and Digital Construction Australia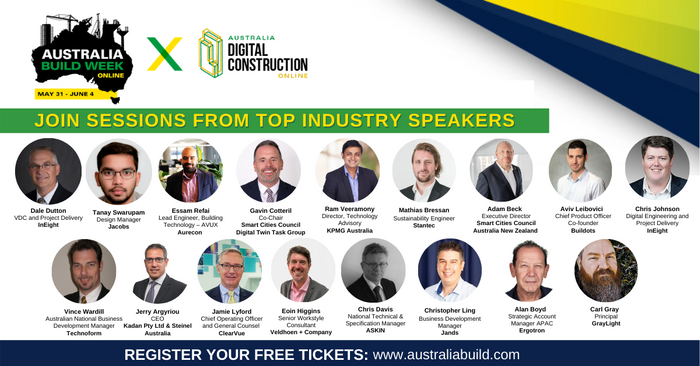 Sydney Build Expo has themed its 300 top-level speakers into 21 free-to-attend summits which are scheduled to take place on the 8 stages scattered throughout the venue's floor. These CPD accredited presentations will encompass a plethora of exclusive industry insights; touching upon topics of interest prevalent within the field of construction and shedding light on the first-hand experience of industry professionals.
The main objective of the expo is to provide the best opportunity for professionals to get together to discuss past, present and future projects. The event enables the industry to educate itself and provides the perfect marketing tool for companies looking to stand out within the competitive construction industry. With this in mind, Sydney Build is proud to showcase the high profile support it has received from key stakeholders occupied across the Australian construction field.
Australia Build Week Online & Digital Construction Australia
The 2nd instalment of Australia Build Week Online s back on 24-28 May 2021. After the successful launch of the online only event in December 2020, the organisers have decided to run a larger version of the event in May 2021. The launch event saw over 3,500 attendees, 17 sponsors and 104 speakers take part over 5 days.
Formal CPD Workshops
Gaining Formal CPD Points Has Never Been Easier!
Presentations last for one hour and 1 Formal CPD point is gained from each presentation. The workshop series are proudly organized in partnership with InHouseGroup3.
To view a list of confirmed speakers, please visit our respective websites:
If you are interested in joining any of our events as a speaker, please put your candidacy forward by contacting our Event Producer.