20 Apr 2022
Record-breaking Timber Tower is Planned in Perth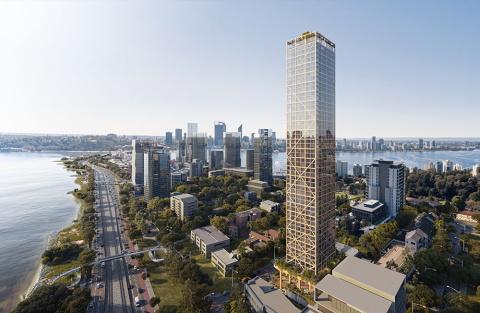 If granted, the world's tallest timber structure would rise in Perth, after the submission of a $350-million development proposal by Melbourne's Grange Development.
At 6 Charles Street, the developer has filed designs for a 50-story hybrid wood skyscraper with 245 flats to the City of South Perth.
The C6 structure, with a height of nearly 183 meters, will be the world's highest timber building, surpassing Atlassian's proposed tower in Sydney's Tech Central zone by three meters.
The tower will have one-, two-, three-, and four-bedroom apartments, as well as 18 square meters of social space per apartment.
The fast changing climate, according to Grange Development managing director James Dibble, was the driving impetus behind the carbon-negative project.
"Along with transportation and agriculture, the built environment is one of the three key drivers of catastrophic climate change," Dibble added.
"With potential technical developments in the transportation and agricultural industries already striving to substantially reduce global carbon footprints, the property business is dangerously behind."
A 500-square-meter vegetable garden, eating and entertainment space, and 1600-square-meter shared health amenities will be added to the structure.
The skyscraper, designed by Elenberg Fraser, will be made of cross-laminated timber (CLT) and glue-laminated timber, or glulam.
The new materials have the structural strength of classic concrete and steel technologies.
"While lumber has been used as a building material for millennia, mass timber construction and manufacturing processes have only lately made it a feasible alternative en masse," Dibble added.
"[The plan] symbolizes the future of what is conceivable, with the exception that we will give it right now."
During construction and operation, buildings built of engineered wood have a much smaller carbon footprint than other buildings.
When compared to a standard concrete construction of similar size, the building's core will trap nearly 10.5 million kg of carbon dioxide.