08 Sep 2022
SA1 Tower Could Become Adelaide's Tallest Tower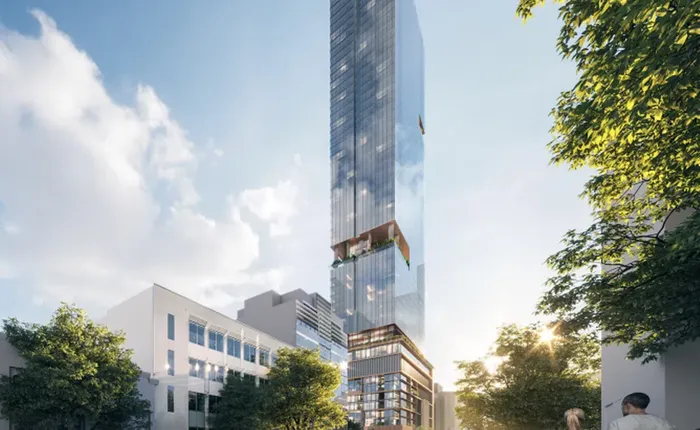 The state's planning commision has suggested that a tower that, if built, would be 180 metres tall receive planning approval, marking a further step in the ambitious effort to break Adelaide's record for the highest structure.
The SA1 Tower, designed by Cox Architecture and JPE Design Studio, would be much taller than Adelaide's current highest structure, the Crowne Plaza on Frome Street, by 42 metres or 18 floors.
On a site where Pulteney and Flinders streets converge, the 55-story structure would have 330 residential units, 160 hotel rooms, and three eateries.
The property at 207-209 Pulteney Street, which is across from the historically significant St. Paul's Church, now houses a three-story office structure and an outdoor parking lot that would need to be removed in order to make way for the new construction.
Despite claims that the proposed tower would "significantly alter" the city skyline, government planning officer Ben Scholes has recommended that the State Commission Assessment Panel grant the project planning consent on the grounds that the proposed tower is not seriously at odds with the provisions of the Planning and Design Code.
"While the development would be likely to significantly alter the built form profile of the Adelaide city skyline, the CBD has evolved in recent years through the proliferation of tower developments which are not concentrated in the city's traditional core or its primary pedestrian area," wrote Scholes.
Affordable housing is not currently offered in the SA1 Tower, but the developer aims to add parking spaces on floors one through nine, hotel rooms on levels 13 through 20, apartments on levels 22 through 50, and penthouses on levels 51 through 53. A rooftop garden and services inclosure would be on the top two stories, while a sky lounge is envisioned for the eleventh floor.
The SA1 Tower has won Adelaide Airport's permission. Despite appearing to encroach into "protected Commonwealth airspace," Adelaide Airport determined that the planned skyscraper would not interfere with commercial flight patterns.
The concept has also received some preliminary backing from government architect Kirsteen Mackay, who claims it might "change the epicentre of the tallest buildings in Adelaide." She did, however, make it clear that her backing would depend on the project's continuous dedication to producing high-quality results throughout the delivery of its latter phases.
The State Commission Assessment Panel is scheduled to evaluate the proposal on Wednesday, September 14.