30 Jun 2021
Sarens Installs Sydney Bridge in Less Than 8 Hours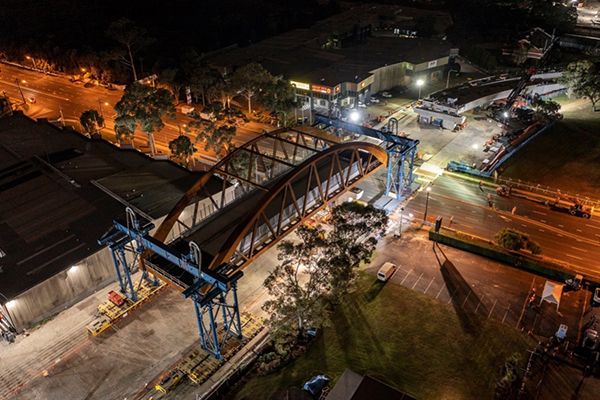 As part of the ongoing construction of the Parramatta Light Rail project, Sarens has carried and installed a 1425 tonne steel bridge arch across James Ruse Drive in Rosehill, Sydney. The bridge was mobilized for its transport from the production site before being lifted and placed onto steel arch bearings, making it the second largest in New South Wales. When fully operational, it will serve as a light rail flyover as well as pedestrian and bicycle pathways.
Sarens was hired by Parramatta to install the elevators as part of the project. S&L Steel provided the bridge with the steel materials. Minhaj Rizvi, Sarens Project Manager, noted that a small crew of six employees was able to complete the bridge installation in record time.
"Working within tight deadlines to mobilize, assemble, and install all of the elements was a challenge, but our design knowledge helped our engineering team to prevent any delays and be incredibly efficient," Rizvi added.
The light rail will connect numerous significant destinations between Westmead and Carlingford and is projected to be fully operational in 2023. The bridge's materials weighted 1425 tonnes and was 64 meters in length. The bridge was raised to a height of 11.7 meters using Sarens cranes. Belgium supplied the towers, bracings, modular lifting beams, and strand jacks, and the on-site team required four welders.