13 Jan 2022
Seven-Tower Redevelopment Plan at Brisbane Shopping Centre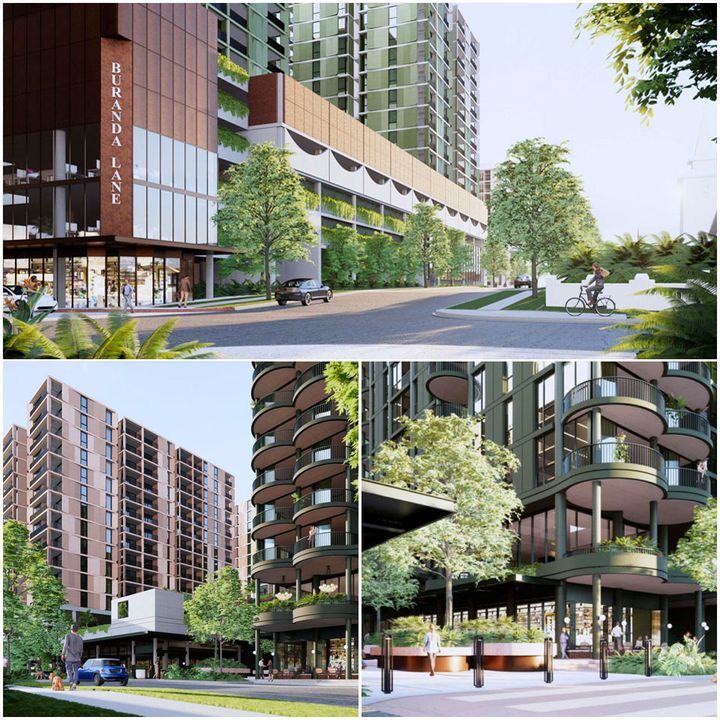 Vicinity Centres is pushing up its efforts to diversify its retail mall portfolio, with plans for a seven-building mixed-use zone at its Buranda Village Shopping Centre in Brisbane's south-east.
The shopping mall, which opened 40 years ago, is located at 264 Ipswich Road, Woolloongabba, on a 2.13-hectare island.
Vicinity is currently aiming to transform the outmoded, low-format shopping area into an 8200sq m laneway-based, open-air retail and dining central precinct with medium-rise buildings in a visually prominent site.
Four 15-story residential towers with 630 build-to-rent apartments are proposed for the mall site, designed by architecture firms Rothelowman and Hassell.
It will also construct two 15-story commercial buildings with a total area of 40,000 square meters and a 10-story structure with a total area of 12,000 square meters.
Vicinity intends to keep all three 5-star Green Star commercial buildings, which will be used for a variety of purposes such as retail, hotels, and restaurants.
The precinct will have a Woolworths supermarket with a floor area of 3400 square meters, as well as ten smaller retail spaces.
A 3400sq m landscaped precinct known as The Terraces will be built directly above the shop laneways, with half of it open to the public and the rest reserved for tenants, featuring a swimming pool and BBQ.
There will be 1265 automobile parking places, 25 motorcycle parking spaces, and 710 bicycle parking spaces in the complex.
As part of its Ipswich Road development, Vicinity will save the existing heritage-listed ventilation, which was built in 1913 by the South Brisbane Council on the junction of Cornwall Street and Ipswich Road stormwater catchment system.
Carolyn Viney, the Vicinity's chief development officer, said the concept was inspired by Brisbane's suburban village centres and would provide contemporary, flexible commercial office solutions to meet the rising need for "work near home" opportunities.
"In addition to meeting residents' and employees' basic requirements, the proposal provides a considerable economic benefit, producing about 580 construction employment and more than 3200 long-term jobs," Viney added.
"This is a real mixed-use outcome where our offers complement each other to create a contemporary and energized community while also taking use of the strong rail, bus, and vehicle transportation linkages as well as the anticipated Brisbane Metro Cross and River Rail services," says the developer.
The project will be completed in three phases, with the residential towers and 10,000 square meters of new retail center enhancements to be completed first, followed by the building of the smaller of the three commercial towers in the second phase.
The reconstruction of Buranda Village comes as a slew of urban renewal and major public infrastructure projects get underway in the run-up to the 2032 Olympic Games.
The shopping complex is only 3 kilometers from the Gabba stadium, which is set to be the hub of the Games and will be refurbished to handle 50,000 spectators as part of a $1 billion redevelopment.
The completion of the Cross River Rail station at Boggo Road is projected to be a catalyst for major investment and development in the locality.
The development proposal follows a number of similar plays around the nation for Vicinity, the country's second-largest retail landlord, as it realizes key aspects of an ambitious diversification plan.
Chief executive Grant Kelley implemented the plan three years ago in an effort to strengthen Vicinity's $26 billion real estate portfolio as the retail sector collapsed due to the development of e-commerce.
The mall owner has been striving to maximize the value of its current real estate assets by constructing apartments, hotels, and office towers on vacant land within its shopping centers.
The idea has also resonated with the larger acceptance of suburban living that has accompanied the epidemic, resulting in increasing demand for decentralized office space.
The mall owner received authorisation late last year to develop a 14,000-square-meter office tower at its Bayside location in Melbourne's south-east.
Vicinity also has plans to build a 20,000-square-meter office complex in Chadstone, which it co-owns with its largest shareholder, billionaire John Gandel.
It also has plans for 900 apartments, a 700-room hotel, and 300,000 square meters of mixed-use space at its Bankstown Central shopping area in Sydney's south-west, as part of a $1.3 billion renovation spanning 18 storeys.
It is also far advanced on plans for a new high-rise office and residential complex at its Box Hill shopping area in Melbourne's east, which is part of a larger makeover.