29 Jun 2023
South Australia Hopes to Be "Hydrogen Superpower" With 118GW of Wind and Solar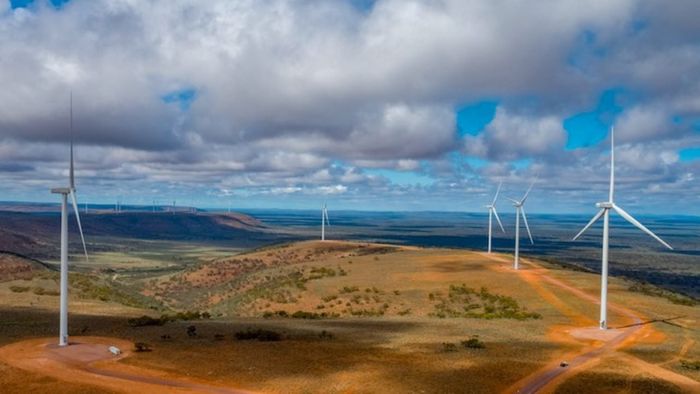 South Australia – which already leads the world with its 70 per cent share of wind and solar in its grid – has outlined plans to become a green "hydrogen superpower" boasting a more than 40-fold increase in large scale wind and solar capacity.
The state's Green Paper on the Energy Transition, released on Thursday, says the state is already looking beyond the "step change" scenario modelled by the Australian Energy Market Operator in its 30-year planning blueprint, known as the Integrated System Plan.
"Notwithstanding the Step Change scenario being considered as the most likely NEM-wide scenario, the Hydrogen Superpower scenario more closely aligns with the Government of South Australia's aspirations for the role of hydrogen in the future energy system," the paper says.
It says this will harness South Australia's wind, sun, land, infrastructure and skills "to be a world-class renewable hydrogen supplier.
"It is expected that the generation, storage, and dispatchable capacity requirements under this scenario would be many times higher than those suggested by AEMO for the Step Change scenario," it says.
"In South Australia, by 2050, the Hydrogen Superpower scenario leads to over three times more utility-scale storage capacity (5 GW), over six times more wind capacity (55 GW), and over seven times more utility-scale solar capacity (63 GW).
"This is broadly consistent with the Government of South Australia's understanding of current privately proposed projects." The state currently has just over 3GW of completed large scale wind and solar capacity.
"Under the Hydrogen Superpower scenario, hydrogen turbines, peaking gas and medium storage (of four to 12 hours duration) play a more prominent role in providing dispatchable capacity. Under this scenario, dispatchable capacity is over three times higher, at over 18 GW, compared to the Step Change scenario."
South Australia has already made a strong commitment to the green hydrogen sector, promising nearly $600 million to support what would be the world's biggest green hydrogen generation plant (200MW) and electrolyser (250MW) at Whyalla.
The winners of the government owned tender – or at least a shortlist – are expected to be released late in July, with the government laying down an ambitious timeline to have the facilities built by the end of 2025.
The green paper says the state government is now seeing enormous interest from project backers in setting up renewable energy projects on government-owned pastoral lands and state waters in South Australia, in areas that are yet to host large scale renewable energy developments.
"DEM (Department of Energy and Mines) estimates the value of non-publicly announced projects at early design phase, including gigawatt-scale wind and solar projects proposed for the state's pastoral lands and state waters, could be even higher than the $20 billion currently in the investment pipeline," it says.
However, it seems that South Australia's Labor government does not see its future uniquely in terms of wind, solar and storage and green hydrogen.
Despite declaring a "climate emergency" soon after its election last year, its "net zero" target remains at 2050, too late in the eyes of climate scientists if containing global warming at 1.5°C is the actual goal.
The forecast dispatchable capacity to 2050 included in the green paper includes a lot of new gas capacity, mostly peaking gas capacity, which might surprise many in the storage industry.
A media release accompanying the green paper was issued in conjunction with the Australian Gas Infrastructure Group (AGIG).
Its CEO, Craig de Laine, welcomed the green paper's focus on the importance of renewable gas as an additional source of low or zero carbon energy that can be delivered today to help meet Australia's ambitious decarbonisation targets.
The state government announced that the $14.5m renewable hydrogen production facility at Tonsley – owned by AGIG and which is sending a blend of 5 per cent renewable hydrogen through the gas pipeline network to 700 homes, will be expanded.
"The Hydrogen Park project underlines what this (green paper) consultation is all about – taking South Australia's greener future to the next level," state energy minister Tom Koutsantonis said in a statement.
"Hydrogen has a major role to play in our state's energy mix and we welcome creative ways to deliver greener energy.
"It's innovation like this that puts South Australia's renewable energy journey in the spotlight. We need a good blend of different ways to generate cleaner energy."
The green paper also looks for feedback on storage, rooftop solar, more hydrogen project, carbon capture and storage and green minerals.

Source: Renew Economy
---
Attend Heat, Energy, Air & Water Expo 2024, leading HVAC-R Exhibition in Australia. Gain access to 10 conference stages and networking sessions, check out 400+ exhibitors, learn from 500+ high-profile speakers and connect with 35,000+ built environment professionals.