15 Dec 2021
Spyre Group Plans $90 Million Brisbanne Riverfront Tower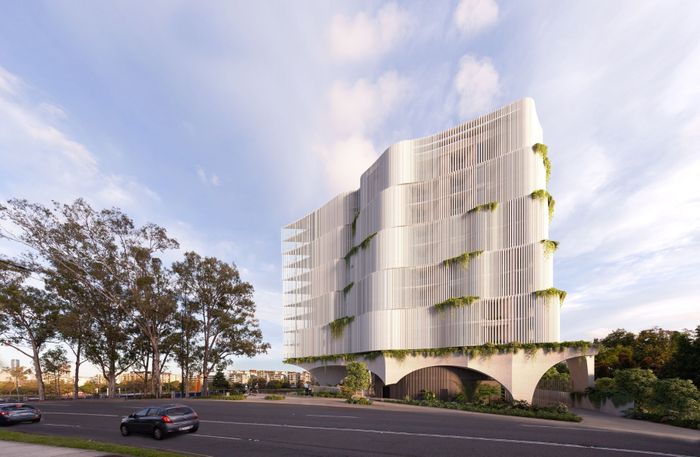 On prime Brisbane riverfront site, the Spyre Group has submitted designs for a sculpted concrete 10-story apartment skyscraper.
Spyre Group and architects Bureau Proberts faced design issues with the triangular 1523sq m block at 570-576 Coronation Drive in Toowong.
Spyre Group director Andrew Malouf stated that they had gone through more than ten design iterations in order to "get it right."
"We had to be pretty creative in the way we kind of approached the architecture," Malouf said.
"It's quite an exposed site, it sits at the apex on the riverfront, we needed to make sure it was right.
"Those beautiful structural colonnades that span about 8m … were a concept that Bureau Proberts came up with in order to create view corridors for the public out to the river."
The base of the tower has an open concrete colonnade with a podium on stilts that provides views of the river and allows for public engagement. There are 29 three-bedroom apartments in the building, including two penthouses with private rooftop space.
With the reopening of borders and the continued trend of working remotely, Malouf expressed confidence in Brisbane's high-end apartment market.
"I'm still confident about the affordability of Brisbane as it relates to other states," he said.
"We're going to see another influx of interstate purchasers who can potentially work from anywhere, or from a satellite.
"I still think there's market shift to high-end apartments in good locations."
A house and an existing unit block near the Regatta ferry station will be removed to make room for the $90-million tower.
"We have 65m of river frontage … all of the units will have amazing views over the river, West End or St Lucia," Malouf said.
"The riparian landscape features heavily in and around the building to soften the form. I think this is definitely pushing the design standards as it relates to subtropical design and the way we use materials."
Malouf said the project would go on the market in April of next year, pending council permission. The start of construction is scheduled for July, with a completion date set for later in 2023.
Another big project is planned for the former ABC Toowong site at 600 Coronation Drive, where Consolidated Properties has filed plans for a three-tower $520 million skyscraper.
A pedestrian connection between West End and Toowong will be provided via a green bridge.