14 Nov 2021
Sydney Metro Unveils Hunter Street Station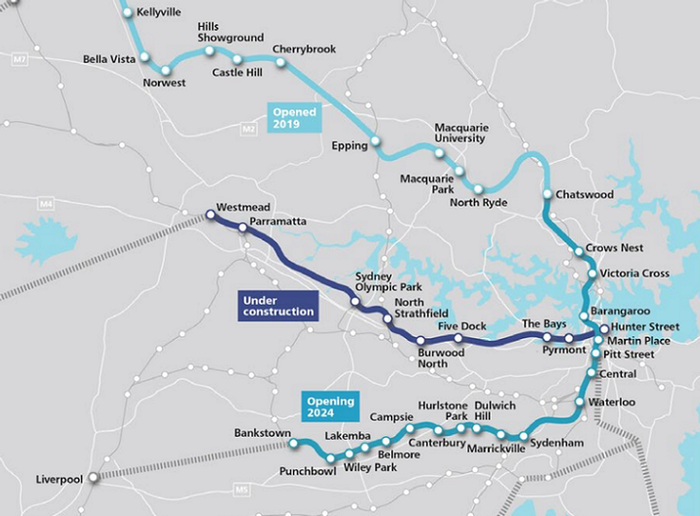 As part of the current development proposal for Sydney Metro West, the NSW government has published designs for a new station on the fast line from the CBD to Parramatta.
The two-part Hunter Street Station, which is projected to include at least one additional tower, would require the acquisition of ten commercial and retail properties.
Each site is approximately 3700 square metres, with one on the south-east corner of Hunter and George streets and the other on the corner of O'Connell, Hunter, and Bligh streets.
While there are little specifics about the above Hunter Street Station project, renderings show that the heritage building on the George Street corner would be preserved and a new tower will be built next door.
The planning proposal also detailed how Sydney Metro would construct 3.5-kilometer twin tunnels from The Bays to the CBD, passing beneath Johnstons Bay and Darling Harbour and excavating Hunter and Pyrmont Street stations.
The 24km Sydney Metro West line will run between Westmead and the CBD once it is completed, with ambitions to extend it to the airport line.
Sydney Metro has issued a request for expressions of interest for the Metro West tunnels and station excavations, kicking off the tender process for the project's third major tunnelling contract.
The city-shaping project, according to Minister for Transport Rob Stokes, will treble train capacity between Greater Parramatta and the Sydney CBD.
"Sydney Metro West will deliver new fully accessible stations at Westmead, Parramatta, Sydney Olympic Park, North Strathfield, Burwood North, Five Dock, The Bays, Pyrmont and Hunter Street in the Sydney CBD," Stokes said.
"This once-in-a-century infrastructure investment will have a target travel time of about 20 minutes between Parramatta and the Sydney CBD, link new communities to rail services and support employment growth and housing supply."
In March 2021, the project gained its first major planning clearance, which included the project concept, station excavation, and tunnelling between Westmead and The Bays.
In 2022, a third Environmental Impact Statement will be produced, allowing the public to comment on the station's fit-outs and precincts.