17 Feb 2020
Sydney sandstone buildings' fresh redesign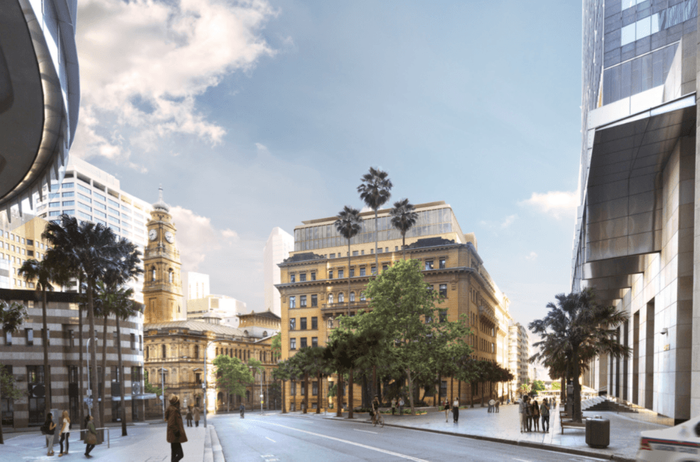 Designs for the transformation of two heritage Sydney sandstone buildings into a "grand hotel" have been revised and analyzed.
Designed by Make, the original plan would have seen both the former Department of Lands and Department of Education buildings on Bridge Street turned into a hotel containing suites. Under the reworked plan, all of the guest rooms would be contained in the Education building, with the Lands building containing the hotel's amenities, services, and facilities. Overall, the number of rooms would be reduced to 192 from 229.
The two buildings would be connected by a new underground pathway. A new pool has been redesigned following an investigation of the condition of heritage buildings. New structures that will protrude from the roof of the existing buildings have also been slightly redesigned.
The buildings, located on Bridge Street in Sydney's CBD, are currently government-owned and were occupied by the Department of Lands and the Department of Education. In September 2015, the buildings were leased to Pontiac Land Group to be turned into a $300-million hotel.
Make was invited to design the transformation, along with Ridley (executive architect), Bar Studio (interior designer), Aspect Studios (landscape architect) and GBA Heritage (heritage consultant). In the new proposal, Webber is now listed as the executive architect and Urbis as a heritage consultant.
The Department of Lands building was originally designed by the NSW Colonial Architect James Barnet in the late 19th century. The Department of Education building was originally designed by NSW Government Architect George McRae, who also designed the Sydney Town Hall.
The decision by the government to lease the buildings was originally met with some resistance in 2015 from a group of architects who believed the buildings would be better used for public use – they proposed as a school and an extension to the Art Gallery of New South Wales.
Source: architectureau.com