25 Oct 2022
Sydney's $3b "City-Shaping" Tech Hub Approved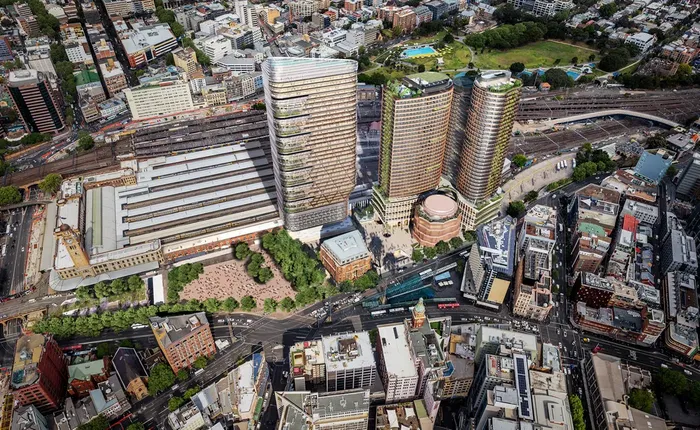 The Sydney CBD has been given approval for a "city shaping" commercial precinct.
Two buildings, measuring 35 and 37 stories, will make up Central Place Sydney, along with an eight-story "Connector" building designed by Edition Office. These skyscrapers are designed by Fender Katsalidis and SOM.
The project will help fulfill the NSW government's goal of creating a technology and innovation hub in a 24-hectare area east of Sydney's Central Station.
The Atlassian headquarters, which were designed by Shop Architects and BVN, as well as the Bates Smart-designed Toga Central, will be housed at Central Place Sydney, which was created through a joint venture between Fraser Property Group and Dexus.
Craig Baudin, Director of Fender Katsalidis, noted that Central Place Sydney is an experimentn of how workplace design can empower the people and the businesses shaping future transformation.
"Our vision is for a new urban marker for the city, one that creates a public meeting place at the heart of Tech Central," said Baudin. "The laneways and public spaces define a vibrant new precinct, creating the bedrock for successful companies to grow and Sydney to establish itself as a global capital for technology."
The project will create 130,000 square metres of of commercial space. "The building will feature workplace environments that integrate nature, maximise day light, has provisions for natural ventilation, and is supported by renewable energy to achieve our net zero emissions in operations target," said Kimberley Jackson, Project Director for Central Place Sydney.
"We are working with start-ups and neighbouring universities to explore innovations in technology and circular economy, all intended to support the development ambitions for carbon reduction and provide the best possible workplace experience for tenants and customers."
Additionally, the project would improve pedestrian connectivity to Central Station and include rooftop community spaces and vertical gardens.
The first stage of Central Place Sydney's construction is scheduled to complete in 2027, with work set to start in 2023.
Attend Sydney Build Expo, the largest construction, architecture and infrastructure show in Australia. Gain access to 9 conference stages and networking sessions, check out 400+ exhibitors, learn from 450+ high-profile speakers and connect with 20,000+ built environment professionals.