25 Apr 2023
Proposed Student Housing Complex in Glebe, a suburb of Sydney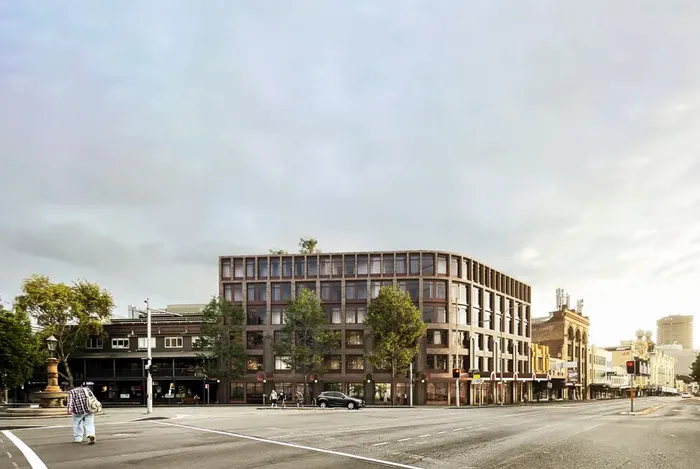 SJB and Land and Form Studios have been announced as the winners of a design excellence competition for a new student housing complex in Glebe, a suburb of Sydney, Australia. The six-storey complex, which will be located on the corner of Broadway and Glebe Point Road, has been designed to act as a gateway to Glebe and the University of Sydney precinct. The project is set to include retail tenancies on the ground floor frontage of Glebe Point Road, as well as landscape and art interventions on Grose Street at the rear, which will aim to activate the surrounding precinct.
The team has emphasized the importance of creating a welcoming environment that helps to promote social connectedness and connection with nature. "Starting university and leaving the family home can be a paradigm shift. It's a time to expand your social network and forge a new community," said SJB studio associate Stefanie Hughes. "We believe that architecture has the power to help facilitate the formation of new relationships."
The design will focus on creating a place of discovery and a hidden landscape sanctuary that is nestled away from the hustle and bustle of Broadway and its busy surrounds. "The concept was to create a place of discovery, a hidden landscape sanctuary nestled away from the hustle and bustle of Broadway and its busy surrounds," said Land and Form Studios director Ro Iyer. The team aims to provide inclusive, diverse, and natural landscape experiences that will promote social connectedness and help students from diverse backgrounds create new communities and lifelong friendships.
The competition win represents an exciting opportunity for SJB and Land and Form Studios to contribute to the development of a vibrant, connected student housing complex that is both architecturally impressive and socially impactful.
Source: ArchitectureAU
---
Attend Sydney Build Expo, the largest construction, architecture and infrastructure show in Australia. Gain access to 9 conference stages and networking sessions, check out 400+ exhibitors, learn from 450+ high-profile speakers and connect with 20,000+ built environment professionals.