06 Jan 2020
Thousands of Artifacts unearthed during construction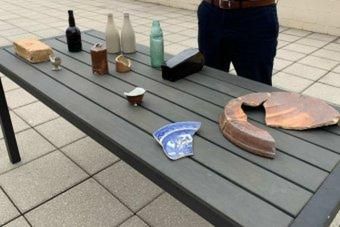 From broken ginger beer bottles to World War II air-raid shelters, archaeologists involved in the construction of Sydney's new light rail have unearthed more than 37,000 artifacts along the 13-kilometer route, which has been one of the city's main thoroughfares since settlement.
"The remains we're dealing with, they're part of Sydney's history," heritage consultant Jayden van Beek said.
"Quite a lot of our work has been in the road corridors. Typically there's been less development through there, so what we have found in those places tends to be evidence of the development of Sydney's utility network."
That includes convict-era roads that date back to the early 1820s, but more commonly found items were ceramic and glass fragments of bowls and plates, including an 1850s anchovy paste jar from England and glass soda bottles.
Rarer finds were pieces of Chinese barrel jars from a late 19th-century merchant shop. Surprisingly, one of the largest discoveries was a 30-meter-long World War II zig-zag trench built at High Cross Park in Randwick. Dating back to 1942, it's one of many such shelters built by local councils in open spaces that were filled in once the war was over.
About 150 meters of old tram tracks salvaged from Sydney's former tram network were found along Anzac Parade in Kensington.
The findings could pave new ways in radiocarbon dating to establish how the artifacts came to be, as many pieces are from all over the world. It leaves us with the nagging and as yet unanswered question, how did it all get there?