15 Jun 2023
Three New Apartment Buildings Delivered at Green Square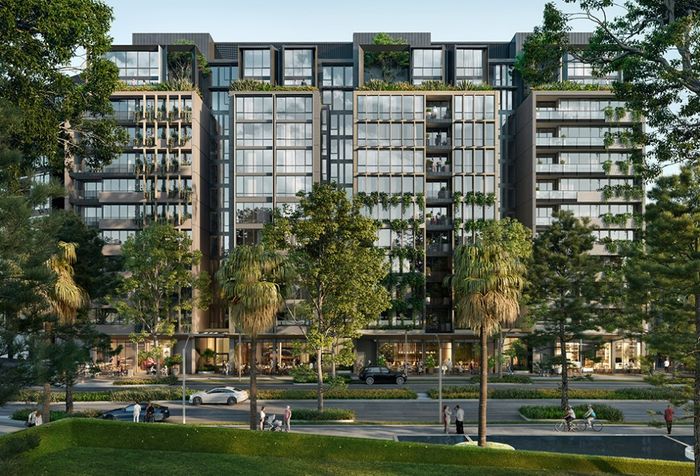 The main structures of three new residential apartment buildings at Green Square in Sydney's Zetland have been topped out, with 311 new homes nearing completion at one of the largest urban renewal projects in Australia.
With a combined construction value of over $210 million, the simultaneous topping out of The Frederick, Portman on the Park, and Portman House signals the delivery of much needed housing in a prime Sydney location.
Mirvac CEO Development Stuart Penklis said: "The completion of these three buildings forms a significant milestone for the ongoing evolution of Green Square from one of the city's oldest industrial suburbs to Sydney's first new town centre in more than a century.
"The new community we are delivering in partnership with state and local government at Green Square has already contributed homes for over 1,000 residents, and these three new apartment buildings will see a further 685 residents calling the precinct home by the end of 2023.
"On completion, Mirvac will deliver more than 1,600 apartments in Green Square, along with state-of-the-art office and vibrant retail spaces, and substantial public spaces within the Green Square Town Centre. The precinct is close to public transportation, healthcare, education, and community services and promotes social inclusion and diversity and fosters a sense of community among its residents," said Mr Penklis.
"Green Square is a great example of government and industry coming together to not only generate more places close to the city for Sydney-siders to call home, but also foster a community that will meet the needs of its residents for years to come. And this commitment could not be more important as we play our part in resolving the most significant housing crisis of our generation."
Green Square by Mirvac has been coming to life for over nine years, and the precinct is now home to an internationally acclaimed library and Civic Plaza, as well as the 6,200sqm Drying Green, Gunyama Park Aquatic and Recreation Centre, Green Square train station, Joynton Avenue Creative Centre, Goodstart Waranara Early Education Centre and over 40 parks. The Green Square Public School, set to cater for 600 primary students, commenced construction in August 2022.
Landcom, the NSW Government's land and property development organisation, and Mirvac began working together on the Green Square urban renewal project in 2012. In October 2020 Mirvac began acquiring Landcom's ownership of the future stages of Green Square Town Centre.
Lord Mayor of Sydney, Clover Moore, said the $13 billion Green Square precinct renewal was one of the City's greatest challenges, but also one of their greatest successes. By 2030, it will have 70,000 residents and 22,000 workers and will still be growing.
"Safe, secure and affordable housing for essential workers and for those on low and very low incomes is essential for a cohesive and economically successful city.
"Mirvac's Green Square mixed-use apartment complex is the result of a design competition which resulted in four buildings containing more than 300 homes and retail spaces and a contribution to affordable housing," the Lord Mayor added.
Source: Build Australia
---
Attend Sydney Build Expo, the largest construction, architecture and infrastructure show in Australia. Gain access to 10 conference stages and networking sessions, check out 400+ exhibitors, learn from 500+ high-profile speakers and connect with 35,000+ built environment professionals.