11 Aug 2022
Top Spring Launches $500 Million The Newlands in Sydney's Lower North Shore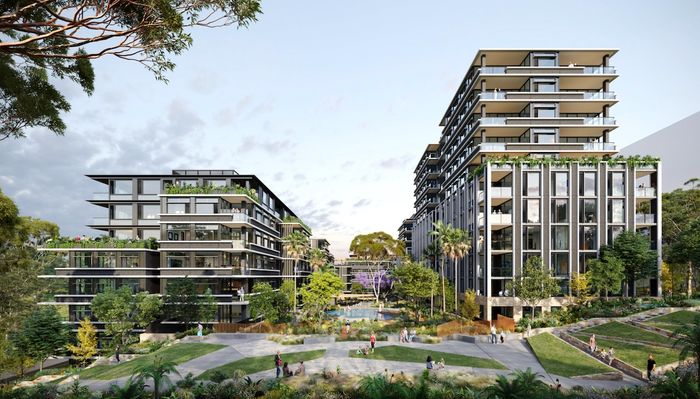 The much awaited launch of The Newlands, a $500 million multi-stage residential development in Sydney's Lower North Shore, has been announced by Top Spring Australia. Bates Smart designed the precinct, and Arcadia was in charge of the landscaping.
Following the rezoning of the St Leonard's South Precinct, Lane Cove Council has approved The Newlands as its first project. The neighbourhood is pedestrian-friendly and offers views of Newlands Park.
The precinct consists of five buildings, each with eight to twelve stories, and 330 custom homes that appeal to a wide range of consumers. The developer's first building, named Verdant, is located next to Newlands Park. In addition to shared lawns, garden rooms, and a direct pedestrian link to Newlands Park, the building has 99 one-, two-, and three-bedroom apartments spread across ten storeys and isolated three-bedroom garden terraces.
"We are extremely pleased to be partnering with an award-winning team on this major project, with both Bates Smart and Arcadia proven to deliver outstanding design outcomes in the local area time and time again," says Top Spring Australia's Managing Director, Sydney Ma.
"St Leonards is known for its proximity to the quieter suburbs of Wollstonecraft, Greenwich and Waverton, and future residents will benefit from access to the established amenity, from childcare, healthcare and education, to transport, retail and hospitality, as well as the new Crows Nest metro line. The location offers city convenience and accessibility with a village lifestyle – not to mention opportunities for rest, respite and active exercise. Every building has pedestrian and cycle access, promoting health and wellbeing principles."
The architecture of The Newlands, according to Bates Smart Director Matthew Allen, was significantly influenced by the surrounding sandstone outcrops and nature of Parkland Forest.
"As the first development to receive Development Approval in the precinct, The Newlands will set the benchmark for the broader precinct. We have taken inspiration from the Newlands Park frontage and connection to the creek-side corridor walk that leads from the St Leonards Centre down to the Sydney Harbour."
"It's leafy in all directions, with bushland character in the rocky landforms, sandstone and tall trees, giving apartments the feeling of living in a treehouse," he says.
"The buildings have been positioned so they step down the hillside, connecting to the surroundings, and apartments will have a corner aspect and balconies taking in views across the treetops, with upper levels benefiting from harbour views."
Allen offers a brief look inside, revealing an earthy colour scheme.
"Sandstone and tile will define the lobby areas, creating a serene underground space. The kitchens and bathrooms will have strong timber and stone accents, with light and dark variations. In the larger residences, a window from the bath will look out to nature," he says.
"The spacious light-filled garden terraces are well-integrated into the street with their own private entries. These large terraces with beautiful courtyards walk out onto their own private lawn overlooking the mature trees of Newlands Park."
Through the centre of The Newlands buildings, a 5,700 square metre green spine will connect that is only accessible to homeowners. The spine includes a pool and sundeck with a resort-style atmosphere, a health and wellness centre with a gym, yoga and stretching rooms, an immersive nature boardwalk, a pocket park, BBQ pits, a children's natural play area, and rooftop zones with private eating areas and work from home sections.
Early 2023 is when Stage 1 of The Newlands is projected to start being built, and mid-2025 is when it is anticipated to be finished.