22 Nov 2022
Welsh and Major Wins Design Excellence Competition for Commercial Complex in Sydney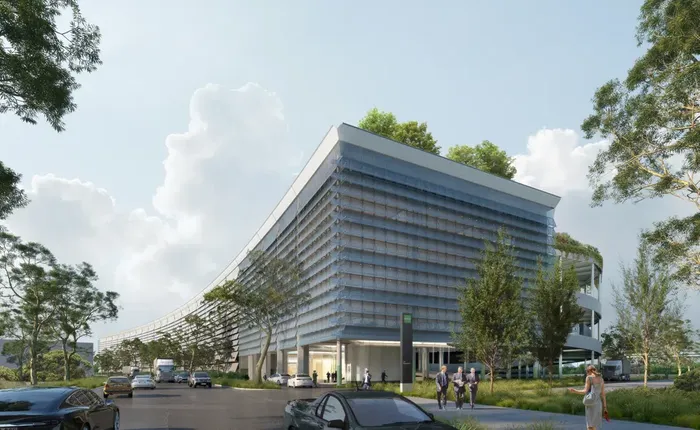 Welsh and Major has won a design excellence competition for a multi-storey industrial warehouse and commercial complex in Sydney's St Peters.
The location is near Port Botany and Sydney Airport and is in the Burrows Industrial Estate at 1-3 Burrows Road. The scale of the facade, which is 260 metres long, honours the "heavy transport and logistics nature of the development," according to the architect.
The proposal's "singular curved, sweeping built form and facade" and its "strong contextual response" were praised by the competition panel. According to the design statement, the facade would produce a "crisp, curved silhouette against the sky" that will transform into an "illuminated artwork at night."
The building will be bookended by three-story circular truck ramps, each of which will include a rooftop garden to break up the size and bulk of the structure.
Welsh and Major said that the concept, which includes a seven-story office structure, a cafe, conference rooms, end-of-trip amenities, rooftop gardens, and spa facilities, represents an emergent typology in Australia.
"The office building is raised over the truck access and carved away at the rear to create a second curved facade that wraps around the northern ramp," the design statement read.
"These are large buildings that are an essential part of contemporary life," said principals Chris Major and David Welsh. "Design excellence, acknowledging and designing for Country, and best practice sustainable initiatives make this an important project for our city."
A two megawatt photovoltaic array would power the Goodman property group facility, allowing a development with net zero embodied carbon. It will aim for a 5.5 NABERS rating and a 5-star Green Star rating.
---
Attend Sydney Build Expo, the largest construction, architecture and infrastructure show in Australia. Gain access to 9 conference stages and networking sessions, check out 400+ exhibitors, learn from 450+ high-profile speakers and connect with 20,000+ built environment professionals.